Reported by Ann Graham
At the July 2nd meeting of the Rotary Club of Austin, President Bill Davies called to order our first meeting of the new 2019-2020 Rotary year! Past President Barry Curlee led the pledges and Past President Pete Meeker gave the invocation. Pauline Gubbels led us in the Four Way Test. Nick Hesselsweet and Pauline Gubbels greeted members and guests at the top of the stairs, while Mary Reynolds, Carl Noble and Jackie Sinex served at the registration table. Carl Noble also announced our many visitors and guests.
Announcements:
The 70th Annual Marble Falls Rotary Fish Fry is Friday, July 12, at 6 p.m.
Don and Lise Grillo will host our next Wine Party on Friday, July 19 at 6:30 p.m. at their home at the Towers of Town Lake, 40 North IH 35, Unit 12A1.
Cindy Brummer gave our Global Awareness Update on the Bangalore Grant to fund two years of English language instruction for 3rd through 8th graders in India. The total grant is $240,000; our Club raised more than half of that amount; and the first payment has just been delivered to the Bangalore Rotary Club.
Kimberly Gdula presented our Membership Minute. She moved to Austin 11 years ago and is a partner at the law firm of Jackson Walker, specializing in problem solving for healthcare clients.
During today's Thank Goodness Basket, led by Josue Limon, contributions which go to the Austin Rotary Club Foundation to fund our Club's many good works, we heard from:
Don Ray George thanked David Doran and the Rotary Club of Austin for the four Youth Exchange students we are sending to Australia this summer.
Ellen Hunt is thankful for finishing the East Panama Global Grant and getting it submitted to RI.
Mike O'Krent will be the keynote speaker at the Marble Falls Fish Fry.
Vlad Bahrencu is our new Sergeant at Arms and will be seeking volunteers for the pledges, invocation and Membership Minute each week.
Sara Pantin's grandson has started visiting universities and is growing up too fast.
Ron Mullen thanked everyone for signing the card that was sent and for their prayers and visits on behalf of his wife, Carole, who has been in the ICU. That she improved is a testament to the power of prayer.
After several minutes of Fellowship time, Program Chair Tarby Bryant introduced our speaker, LTC Amanda Harrington, who spoke to us about the Army Futures Command, headquartered in Austin. LTC Harrington was also a Rotary Youth Exchange student to Germany many years ago.
On July 22, the Army Futures Command will host a "Thank You, Austin!" event to celebrate their first year of existence. They are part of the largest Army reorganization since 1973, and their purpose is to make sure the Army maintains dominance militarily and to modernize operations. A major operational challenge is to anticipate new global threats and competitors.
LTC Harrington said their Operation is designed to "fail fast, learn, and move forward." She also said that artificial intelligence and cybersecurity are incorporated into the mission; and that the Army Futures Command has 24,000 personnel in 28 states, with 500 in Austin.
Next week we'll hear from Harlow Russell about "Asian Millenials versus American Millenials: The Good, the Bad and the Ugly". President Bill adjourned our meeting after recognizing and thanking our newsletter sponsors for the week – Reggie Nisbett (Greater Texas Water Company) and Mike O'Krent (Life Stories Alive).
More About Our Speaker: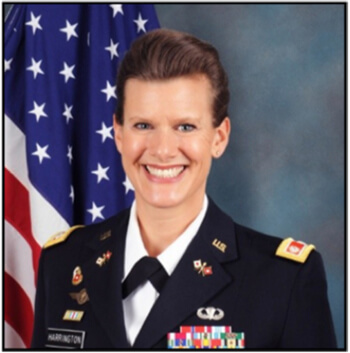 LTC AMANDA HARRINGTON
Army Futures Command (AFC)
LTC Amanda Harrington is the Army Futures Command (AFC) Staff General Secretary. She's served our Nation since 1999; beginning her career as the first female Field Artillery Officer assigned to Fort Bragg, NC. As a branch detail program
designee, she transitioned to the Signal Corps deploying her Soldiers in early in 2002 to build the initial Operation Enduring Freedom long haul satellite communications network across five central Asia nations.
Amanda separated from active duty in late 2003 and thrived in corporate America as a Store Manager for The Home Depot. Later she relocated to the Pacific Northwest to work for Boeing-Integrated Defense Systems.
Recalled in 2007 to serve as the Multi-National Security Transition Command- Iraq J6 Advanced First Responder Network Program Manager, she advised senior Iraqi officials on the development, expansion and management of Iraq's "911" like public safety system. In 2009 Amanda accepted a nominative U.S. Army assignment, returning to active duty serving in support billets both home station and deployed from 2009 to 2017.
Prior to reporting to AFC to serve as the command's first Chief of Current Operations, Amanda served as Brigade Executive Officer, United States Army Information Systems and Engineering Command, Fort Huachuca, AZ. Other key billets include: Battalion Signal officer, Headquarters and Headquarters Troop Commander, Systems Control Troop Commander, Task Force J6, Task Force Executive Officer, and Brigade Operations Officer.
LTC Harrington's awards and decorations include: the Bronze Star Medal, the Defense Meritorious Service Medal, the Meritorious Service Medal (2OLC), the Joint Service Commendation Medal (2OLC), the Army Commendation Medal (4OLC), the Army Achievement Medal (2OLC), the Joint Meritorious Unit Award, the National Defense Service Medal, the Iraqi Campaign Medal (SBS), Operation Inherent Resolve Campaign Medal (SBS), the Global War on Terrorism Service Medal, the Outstanding Volunteer Service Medal, the Armed Forces Reserve Medal, the Army Service Ribbon, the Overseas Service Ribbon, and Parachutist Badge.
LTC Harrington maintains Project Management Professional credentials, other IT certifications, and earned a Masters Degree in Information Technology Management. She is an active volunteer, a Rotarian, and board member for the Vigilant Torch Association a 501(c)3. LTC Harrington is also a member of the Army and Navy Club–Washington D.C., as well as a lifetime member of the Signal Corps Regimental Association, the Armed Forces Communications and Electronics Association and the Military Officers Association of America.