Reported by Jim Gdula
President Bill Davies called today's Rotary Club of Austin meeting to order. Andres Bustamante led the pledge and Past President Barry Curlee gave our invocation. Our greeter was Healy Marroy, and Myron Burse introduced our guests and visitors.
Peter Cazamias was introduced and welcomed as the newest member to our Club. Peter was sponsored by Barry Curlee.
President Bill presented the following Paul Harris Fellowship Awards:
Harold Benkoski (PHF+5)
Darrick Eugene (PHF+1)
Ken King (initial PHF)
Darrick then dedicated his PHF award in memory of Past President Julia Benkoski.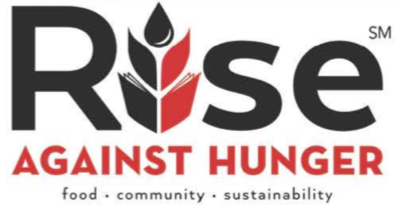 Past President Harold Ingersoll was called to the podium to give an announcement about our upcoming Rise Against Hunger service event. This year's Rise Against Hunger project will take place at Casa Chapala, located at the intersection of Hwy 183 and Burnet Road. We need volunteers to staff 2 shifts with approximately 50 people per shift, and the shifts will run from 7:00 am until 10:30 am and then from 10:00 am until 12:30 pm. Bring prospective new members, children or other family members to help staff this important club project! The goal this year is to pack 30,000 meals.
President Davies next called on Michael Portman to tell us about the Wine Tasting/ Party that he'll be hosting on February 7th, beginning at 6:00 pm. He's still working on a unique theme for this event so stay tuned, but put it on your calendars now!
President Bill returned to the podium for the following announcement: EarlyAct FirstKnight (EAFK) Knighting Ceremonies will be held at Pecan Springs Elementary School beginning at 8:15 am on Friday, January 24, and at Dawson Elementary that same day at 1:30 pm. All members are welcome and encouraged to attend one of these ceremonies.
He then thanked all members for their help in finding a suitable, new meeting location. Starting on Tuesday, February 4, the Rotary Club of Austin will meet at the Ben Hur Shrine Temple, 7811 Rockwood Lane (off of Anderson Lane and Mopac).
Josue Limon offered the Thank Goodness Basket. Ellen Hunt was thankful for crossing off another goal on her bucket list after she visited a butterfly habitat in Mexico. David Menchaca expressed appreciation to Discount Electronics for their continued support of Rotary Camp Enterprise. Discount Electronics is once again loaning 20 laptop computers to be used by the campers next weekend.
David encouraged members to consider Discount Electronics for their computer needs to show our appreciation of their support. Ronney Reynolds reminisced about his and our Club's history at St. David's and encouraged us to make the move to the Ben Hur Shrine Temple a successful one. Sherry Workman shared a story about Rotarians involved in the massacre in Rwanda about 10 years ago and how they were able make a fresh start, hoping that we can do the same following our move. Ann Graham asked that we keep her and her family in our prayers as her husband continues to deal with health issues, the latest being a cancer diagnosis. He always encourages Ann to look for the silver lining. Caroline Valentine announced that as a result of her involvement with our Club and Helping Hand Home for Children, she has applied to be a foster parent and/or adopt one of the children at the home.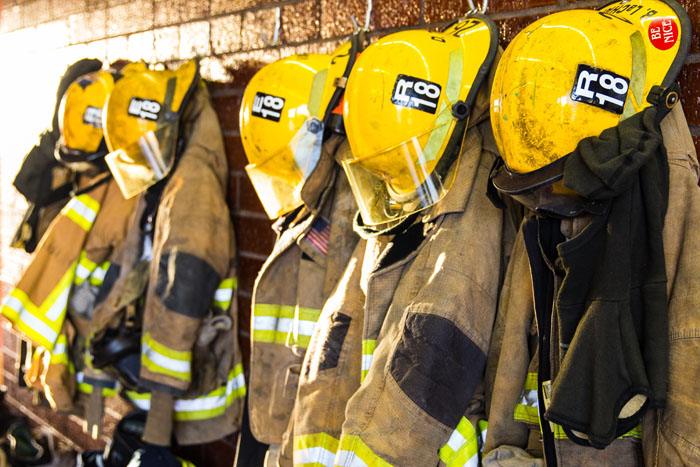 Following a few minutes of Fellowship time, Tarby Bryant introduced our guest speaker, (Ret) U.S. Army Colonel Scott Mac Leod, who is currently the CEO of Augmented Training Systems, a local startup that uses Virtual Reality to help train First Responders.
Colonel MacLeod presented some of his thoughts and opinions about the recent events taking place between the U.S. and Iran. He discussed how our leaders most likely framed the situation to consider the various interests and strategies going forward. He presented several positive and negative immediate outcomes of military action as follows: On the positive side for the U.S., Iran loses a key leader and they are forced to lie to their own citizens regarding their missile counter attack, falsely saying that 80 Americans were killed. On the negative side, Iran withdrew from the Nuclear Agreement, Iranian nationalism has surged, the Iraqi Parliament passed a resolution calling for the U.S. to withdraw all forces and there is a high likelihood of future terrorist attacks.
Colonel Mac Leod defined the Instruments of National Power as Diplomacy, Information, Military and Economic with the acronym being DIME. In dealing with the situation, the U.S. must try to identify the Iranian interests and build a consensus.
The leadership takeaways he presented are: (1) Do you have a Framing and Decision Making Taxonomy, (2) Can you step back from the fog and friction inherent during a crisis and apply critical thinking, and (3) Can you build consensus across organizational boundaries in support of common interests? He stated that these principles can be applied to our lives and professional careers, too.
A major element of U.S. strategy is assumed to be deterrence, particularly in regard to nuclear weapons, and an essential element in successful deterrence is a degree of uncertainty on the part of a would-be aggressor as to whether the target power, although attacked and badly damaged, will nonetheless retaliate – even at the risk of suffering further damage. This strategy is necessary to prevent nuclear proliferation in the area.
Next week's program will be a presentation by the winning team from Camp Enterprise. President Davies acknowledged two of our newsletter sponsors, Mark Johnson (IBC Bank) and Michael Abelson (The Abelson Group); Andres Bustamante led us in reciting the Four Way Test to close the meeting.
More About Our Speaker: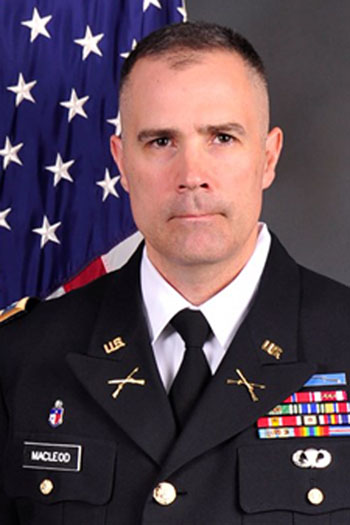 (RET) U.S. ARMY COL. SCOTT MAC LEOD
The Iran Crisis, Leadership and the Influence of Power
Scott recently transitioned from the Army after a 31-year career culminating as a Brigade Commander. An accomplished senior leader, he acted as both a Chief of Staff and Chief of Operations for a 25,000 member command where he led a staff of more than 100. He is an experienced entrepreneur with more than six years of experience working alongside members of the Austin business ecosystem.
Prior to his retirement he acted as the Texas liaison to Army Futures Command where he was responsible for engaging centers of influence in the Federal, State, Business and Academic communities within Austin. His last operational assignment was as Commander of one of the nation's 10 Homeland Response Forces. His dual responsibilities included commanding a Joint team of Army and Air National Guard Units available for mobilization in time of war or civil emergency.
During Hurricane Harvey he acted as the Joint Task Force Commander for the more than 6,000 National Guard, Active Duty Army and Marine Corps ground forces operating along the Texas Gulf Coast. He is a graduate of the U.S. Army War College and the War College's Advanced Strategic Arts Program.
He is currently the CEO of Augmented Training Systems, a local startup that uses Augmented and Virtual Reality to provide training to Fire, Law Enforcement and EMS personnel. He is also the Headmaster of Summit Christian Academy in Cedar Park where he has launched Austin's first and only fully immersive PreK-12th grade Innovation Education Program.
Scott volunteers his time by serving on multiple non- profit boards. He and wife and children have lived in Austin since 1999.