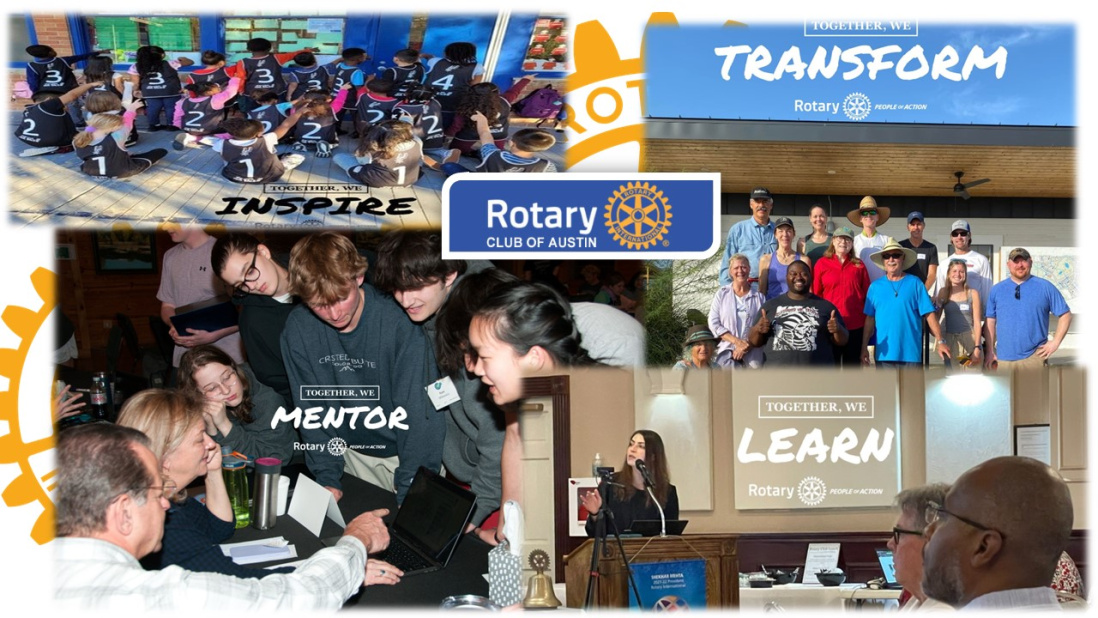 Rotarian's Are People of Action
Where business and community leaders come together to get great things done. Join us for community service, education and connecting.
The Rotary Club of Austin (RCA) is the oldest and largest Rotary Club in the City of Austin. Founded in 1913, RCA now counts approximately 200 businesses, civic and community leaders among its members. Each of these individuals is committed to Rotary's "Service Above Self" philosophy that drives the club's efforts to improve our community, our nation and the world. Learn more about what Rotary is.
Recent Updates
2023-03-28 Club Meeting: Thom Singer, The State of Tech in Austin


Thom Singer, CEO of Austin Technology Council, will join us on March 28th to discuss The State of Tech in Austin.

Thom has worked with the best thought leaders and visionary entrepreneurs to promote and support the Austin Tech Community. He states, "My life's work is to share the power in business relationships, trust, and accountability. I have spent 15 years speaking to corporate and association audiences about how to cultivate meaningful connections."

Thom's first job was working as a busboy at "The Big Yellow House Restaurant" in Monrovia, CA. It was in this early employment that he learned the importance of customizing his work for whomever he had the honor to serve. Between the vast number of customers dining in the restaurant, to the three or four wait-staff he assisted each night, it became clear that making personal connections and being engaged with other people leads to more success.

After a successful career in business development for law firms, banks, and consulting firms, he started his own business in 2009 as a keynote speaker and trainer for corporate and associations. During the pandemic, he joined the team at Stanton Chase International, a leading executive search firm, assisting companies to grow their senior executive teams.

In 1991, Thom moved to Austin for a job. The intention was to remain in Texas for three years. But soon after arriving with his wife, they realized the growth-oriented attitude and entrepreneurial spirit of the city made it a great place to live and raise a family. He and his wife, Sara, are proud Austinites and are the parents of two highly-spirited adult daughters (and soon one math genius son-in-law)."
---
This week's meeting will be held in-person at Ben Hur (and also live-streamed on Zoom)!!

For those of you who can't join us in-person, you're invited to our LIVESTREAM Weekly Lunch Program!

When: Every Tuesday (almost) Noon to 1 PM Central Time (US and Canada)

Join Zoom Meeting
https://rotary-austin-org.zoom.us/j/84893232438?pwd=OFdaY0V4VDltMG5IWHJIWXB5VlVIZz09

Meeting ID: 848 9323 2438
Password: 361851
One tap mobile
+13462487799,,84893232438# US (Houston)

While we will have cookies, water or tea available at the meeting, we will not be offering a meal. Please bring your own lunch if you plan on eating.

Did you miss our last in-person meeting? Want to share it with others? Here is the link to the recording: Harry Evans: Standing My Watch
PLEASE HELP US KEEP OUR ZOOM RECORDINGS CLEAR BY TURNING OFF YOUR BLUETOOTH ON YOUR DEVICES WHEN ATTENDING IN PERSON, THANK YOU!
---
Promote your business, support our club!
* Advertising space costs only $250 for 6 months of promotion ($500/yr)!
* ALL PROCEEDS go toward helping CLUB OPERATIONS!
* Contact the Rotary Office for details

---
Congratulations to Ellen Hunt for her District Roll of Fame Award!
Kuddos and congratulations to Ellen Hunt for being inducted into District 5870's Roll of Fame!
Induction into the
Roll of Fame
is the highest award conferred by District 5870 and is intended to recognize those Rotarians who have distinguished themselves by outstanding service to their clubs, communities, and District 5870.
Ellen receives this award for her honorable work in support of our Club and the District as a Club Director and for her amazing work on the Global Grants Committee! The induction ceremony will take place in April at the Conference of Clubs in Corpus Christi. Thanks, Ellen, for your service!
---
Support Helping Hand Home at Jersey Mike's on March 29th!
Help support one of our Club partners, Helping Hand Home!
Please SAVE THE DATE for Wednesday, March 29th , when 100% of sales through local Jersey Mike's Subs will be donated to Helping Hand Home - ALL DAY!!

Helping Hand Home for Children is incredibly proud to once again join forces with Jersey Mike's Subs for the 13th Annual March "Month of Giving" fundraising campaign! The campaign will culminate in a nationwide event, Jersey Mike's "Day of Giving," on Wednesday, March 29th when local Jersey Mike's owners and operators will donate their resources and every single dollar that comes in to local charities like Helping Hand Home!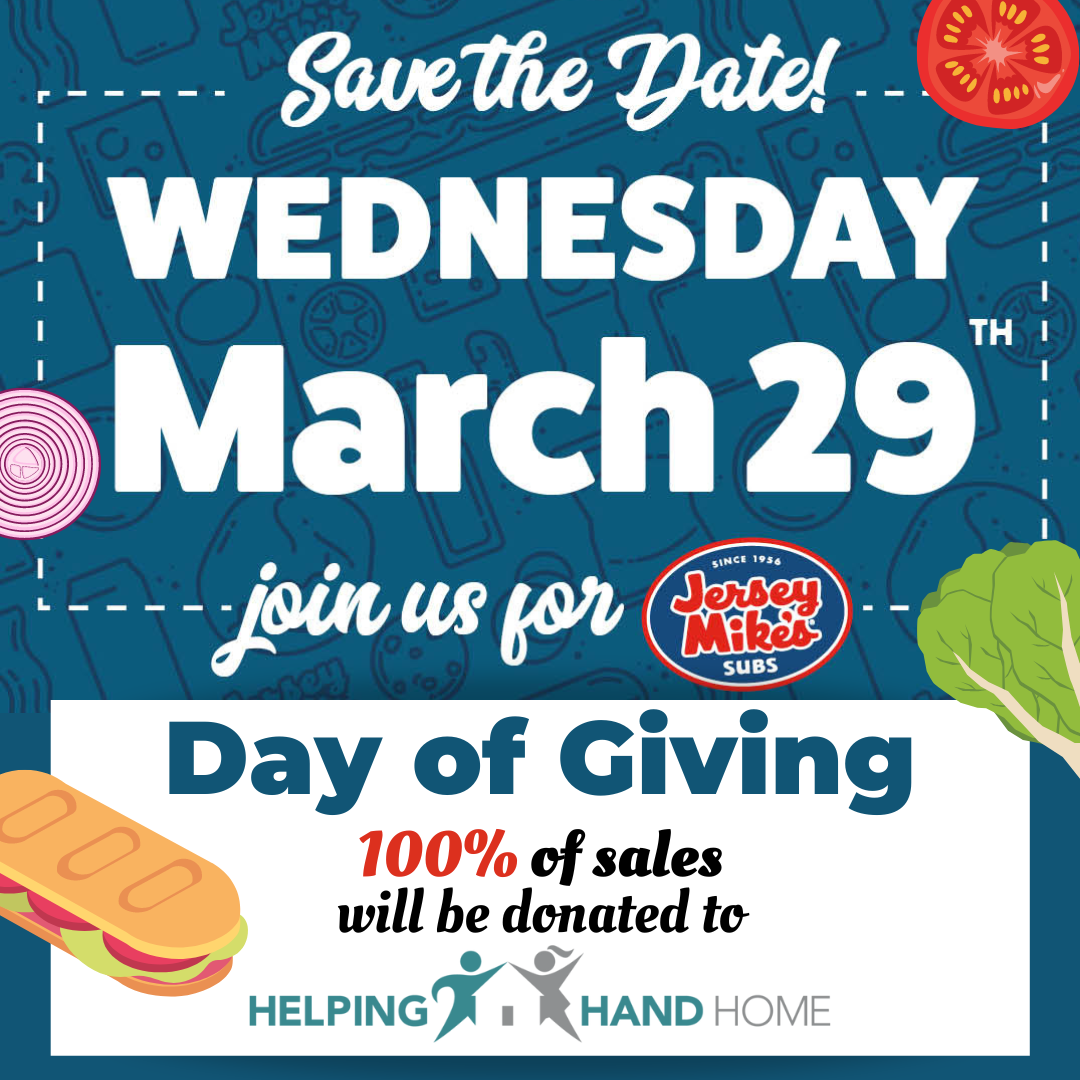 ---
End Polio Now - Become a Member of the Polio Plus Society with a $100 Gift
The Polio Plus Society
Until the world is polio-free, every child is at risk.

Pledge to help Rotary make history by continuing to contribute each year until the World Health Organization certifies that polio has been fully eradicated.

Become a member of District 5870's Polio Plus Society with a gift of at least $100 each year.
Society members will receive a PolioPlus Society membership pin and certificate. Your contribution qualifies for Paul Harris Recognition and Major Donor credit.
To make your tax-deductible donation go to
my.rotary.org/donate
and click on "Polio Fund". You can choose a one-time donation of $100 or more, or a recurring donation in the amount and frequency of your choice (We suggest $10/month as the "easy way" to become a PolioPlus Society member.)
Joining the Society is a 2-step process.
1st Step:
Complete the PolioPlus Society Pledge Form
,
then scan and send to District PolioPlus Chair PDG Scott Rainey – srams@aol.com. (get a form at an upcoming Club meeting)
2nd Step
, make your donation. You can choose to donate in various ways, either by credit card online, or by check. If you choose a credit card, go to
myrotary.org/donate
and choose "Polio Fund". You can then:
Make a one time donation of $100 (or more) with your credit card by clicking on the "One-time donation" button and choosing the appropriate amount from the boxes below. Or…
The other choice is what we call the easy or "painless" way to become a PolioPlus Society member by utilizing the monthly payment option. Click the "Recurring Donation" button. For frequency choose "monthly" and for amount choose "other" and enter $10 in the "enter other amount" box. If you wish to donate more, or quarterly or annually instead, you have those options as well. (To donate online, make sure you have registered on myrotary.org for a My Rotary account for you and your club to receive proper credit. Signing up is quick and easy).
Or…you can also donate by writing a check to "The Rotary Foundation" with "PolioPlus" in the memo section and submitting to your club's Foundation Chair. Help Rotarians reach every last child and achieve our vision of a polio-free world.
---
Volunteers Needed at Upcoming EAFKs
Early Act First Knight - Sign up for Knighting Ceremonies
We need at least 2 Rotarians per ceremony to be there to cheer on the honorees and their families.

Pecan Springs on 3/24, 8:15 am at 3100 Rogge Ln, Austin, TX 78723

Wayside Schools on 3/30, 8:30 am at 6405 S I-35 Frontage Rd, Austin, TX 78744

Sign up here at https://qrco.de/EAFK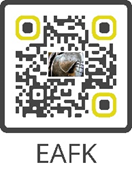 EarlyAct First Knight is a revolutionary character and ethics education program for K-8 school children that, for the first time, puts Rotary into mainstream public education. Teaching the Rotary tradition of "Service Above Self" through a visually captivating theme of knightly heroes, with a comprehensive year-round curriculum-based character education program.
---
Spring Blood Drive - April 11, 2023 at Ben Hur
On April 11th, we will have a blood drive in the parking lot of Ben Hur from 11:00 am – 2:00 pm. Members, please sign up for a slot to give blood here at https://qrco.de/blood041123 or for non members here, or via the signup sheets during an upcoming Tuesday meeting. For questions, email Mary Reynolds or office@rotary-austin.org.
---
Volunteer for Pecan Springs Evening of Fun!
Come help celebrate student success after taking STAAR tests at Pecan Springs Elementary for their
Evening of Fun on April 21st.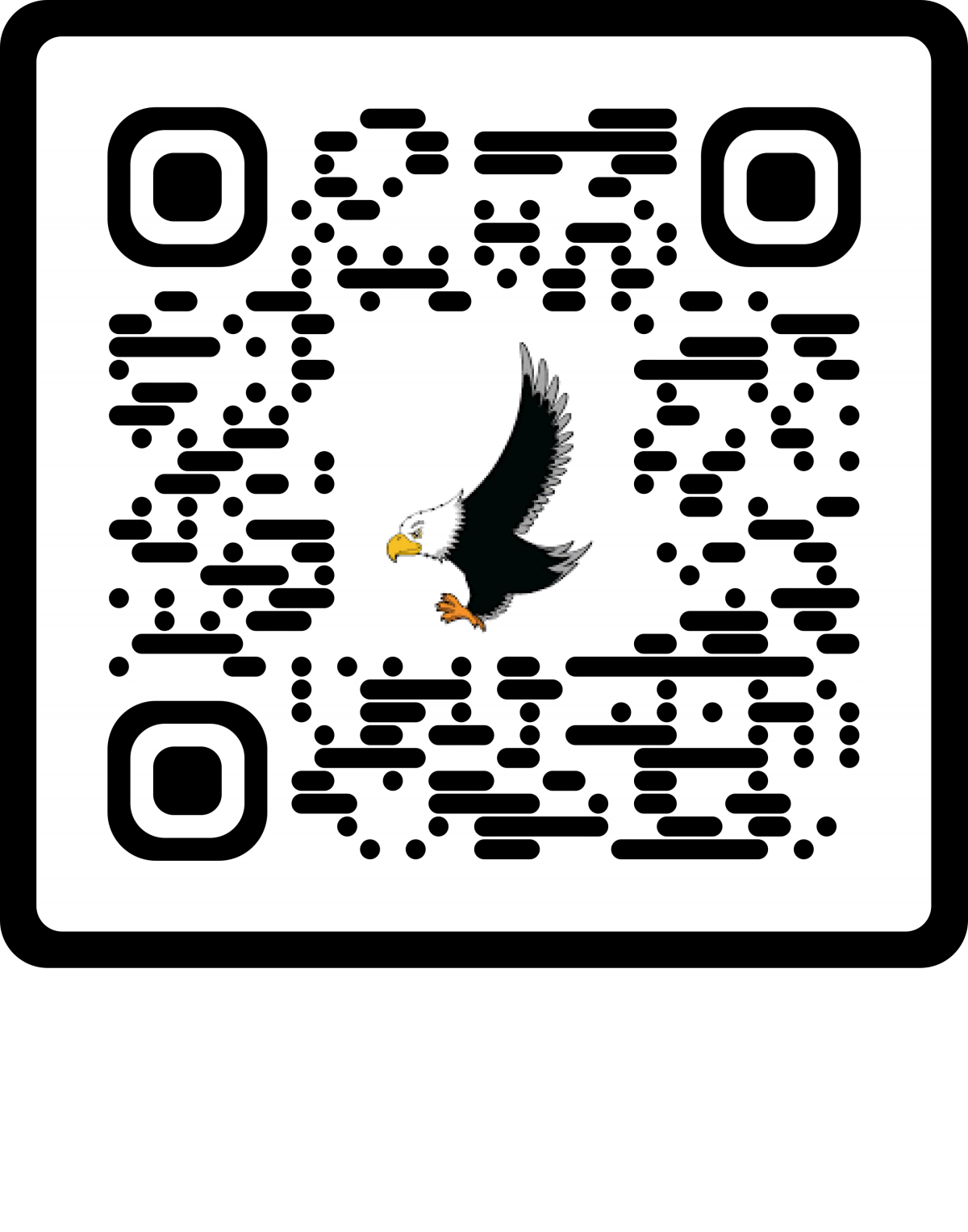 Volunteer shifts are 30 minutes or 1 hour beginning at 2:00 pm till 8:00 pm including:
* Fun & Water Sports
* Dinner Servers
* Literacy & Math Activities
* STEM Activities


Come help with the fun.
Sign up with the QR code or at: https://qrco.de/pspfun042123
---
District Update on PDG Gonzalo Garza Memorial Match
Another good week! Over the past 7 days, 22 Rotarians representing 6 clubs contributed a total of
$5,305
! That brings the total contributions to date to
$22,015.
We are 25% through the match.
Please note that if you contribute to this match, you will also be entered into the ongoing District raffle!
For instance, a contribution of $250 will get you 4 raffle tickets (the first ticket is $75, each additional ticket is $50), $275 will get you 5 tickets, and so on.
If you're one of those who has participated in the match, thank you
so
very much for your generous contribution. If you're not, well, that's OK, there's still time - the match will run through April 30.
As a refresher, District 5870 is offering the following to any Rotarian who is already a Paul Harris Fellow but not yet a Paul Harris Fellow +8:
Using Rotary Foundation Recognition Points generously donated by district Rotarians, we will match contributions of
new cash
made to the
Annual Fund-SHARE
between March 1 to April 30, 2022 on a
1-to-1
basis in amounts of
$250 to $500
for any
active
Rotarian in District 5870 who is
not yet
a Paul Harris Fellow +8.
The rules are simple: If you are a Paul Harris Fellow and have a Recognition Amount less than $8,500 you are eligible to participate. Simply email me at
richkaye@hot.rr.com
and let me know how much you are contributing to the Annual Fund-SHARE – the amount must be between $250 and $500.
Then, either donate directly to the Rotary Foundation by going online at
www.rotary.org
(please be sure to log into My Rotary before donating) or mailing your contribution (using the attached contribution form) to The Rotary Foundation, 14280 Collections Center Drive, Chicago, Illinois 60693. As soon as your contribution posts, I will release your match.
Finally, my thanks goes to those of you who participate in supporting the great work that our Foundation does around the world and in our local communities. You truly have the vision to see, the courage to believe, and the faith to act.
Respectfully,
Rich Kaye
Past District Governor, 2013-14
Regional Rotary Foundation Coordinator, 2021-24, Region 36
---
District Raffle Mania
Raffle Mania: A Special RI Foundation Giving Opportunity
Rotary Central Texas District 5870 is incentivizing Rotarians in our district to donate to the Rotary Foundation through Raffle Mania!

Several raffle prizes are available to ACRC members who donate including:
GRAND PRIZE - Coastal Vacation, Cozumel, Mexico for 7 days and 6 nights surrounded by tropical paradise. The prize package is valued at $3,075
AUSTIN FC PACKAGE - 2 Austin FC Game Tickets include all inclusive food & beverages at the Captain Morgan Club & overnight stay at Renaissance Austin Hotel and dinner at County Line. The prize package is valued at $900..

LONGHORN FOOTBALL WEEKEND - 2 Tickets to University of Texas Longhorn Football game, passes into "The Club" for pre-game and game-time food and beverages, a 2 night stay at Sonesta Select Austin and dinner at County Line. The prize package is valued at $775.

FAMILY WATERPARK ADVENTURE - 4 General Admission Tickets for Typhoon Texas Waterpark and 2 night stay, including breakfast at Courtyard by Marriott in Pflugerville. The prize package is valued at $725
All contributions will be 100% directed to the Rotary Foundation.

Click the button below to learn how to purchase tickets and for more details on the prices. Help District 5870 continue to be a leader in Rotary Foundation giving!
---
Upcoming Events
Mark your calendars for ways to stay involved and connected with the Rotary Club of Austin.
3/24: EAFK: at Pecan Springs Elementary
at 3100 Rogge Lane at 8:30 and 9:15.
Sign up to join in
on the Knighting Ceremony.
3/28: RCA Board of Directors meeting
will follow the regular club meeting on Tuesday, March 28th (rescheduled from 3/21).
3/30: North Breakfast Cluster
- Join this informal gathering at Another Broken Egg for breakfast, fellowship, and great conversation beginning at 7 am.
3/30: EAFK at Wayside Schools
at 6405 S I-35 Frontage Rd on 3/30, at 8:30 am.
Sign up to join in
at the Knighting Ceremony.
4/6: EAFK at Harris Elementary
at 1711 Wheless Ln, Austin, TX 78723 at 8:30 & 9:15 am.
Sign up to join in
at the Knighting Ceremony.
4/11: Spring Blood Drive
at Ben Hur at 7811 Rockwood Lane from 11:00 - 2:00.
Sign up to donate
for a timeslot at
https://qrco.de/blood041123
.
4/12: Downtown Breakfast Cluster
at Westlake Kerbey Lane Cafe at 7:00 am.
4/21: Pecan Springs Evening of Fun.
Sign up
for a shift at https://qrco.de/pspfun042123.
4/28: Save the Date
for the April Wine Social hosted by Laraine & Leon Lasdon.
---
Rotary Club of Austin brings leaders together to do good service.
Our members are active in the community, business people, community leaders, people who are new to Austin as well as long-time and native Austinites. Our weekly meetings provide great fellowship, education and networking.
There are so many ways to get involved.
Let us help you get started.
Our club meetings are not the only ways to participate. We host a variety of other volunteer activities, large annual projects, business discussions, and social events. Contact us for more information.
Donate to the Rotary Club of Austin
---
Are you a Meetup user? You can also follow our events on our Meetup page.