Reported by Phil Thoden
President Bill called the weekly meeting of the Rotary Club of Austin (RCA) to order. Liz Ingersoll led the pledges, Ann Graham gave our invocation of the day, and Nick Hesselsweet came up to lead us in saying the Four Way Test. Ken King greeted each member and guest as they arrived, and Carl Noble introduced the many guests and visitors.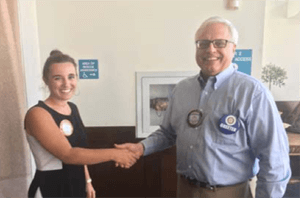 President Bill then introduced new member Dee Anne Heath (sponsored by Tarby Bryant) and presented Jessica Diaz (sponsored by Past President Harold Ingersoll) with her Blue Badge. Congratulations Dee Anne and Jessica!
Sylvia Holmes came up to let everyone know our annual Holiday Party will take place on December 11 at the Austin Club. She also asked for a show of hands in favor of a dinner cruise on Lake Austin as a social event, and a large number of attendees expressed their interest.
Diane Ventresca reminded us that Camp Enterprise will take place January 24-26, 2020, and volunteers are needed. Let her know if you're willing to help by sending an e-mail to diane.ventresca@gmail.com. Don Grillo made a final announcement about the wine tasting social event at his downtown Austin home this Friday at 6:30pm.
Dean Murray reminded everyone about the Helping Hand Home for Children's Splash Bash coming up on Saturday, July 27. Volunteers are needed to set up beginning at about 8:30am and the event will be completed by early afternoon. He pledged to donate $20 to the Austin Rotary Club Foundation for every RCA member who takes a trip down the waterslide, and Mark Johnson said he would match that offer. Dean then said he would double his contribution if President Bill goes down the slide, too!
Nick Hesselsweet provided the Membership Minute, noting that he was always traveling too much to join Rotary while he was working. Now in retirement, he was encouraged to join by Past President John Braziel as well as Past Presidents Barry Curlee, Gaines Bagby and other current members. He wishes to do good in the community, as Rotary allows us all to do.
President Bill then reminded everyone about the Executive Committee meeting today and announced that reporters are needed to write the weekly recaps for the Rotary Reminder. Last, Mary Reynolds noted that volunteers are still needed for the Early Act First Knight (EAFK) at Dawson Elementary School; Host Families are needed for a Group Youth Exchange student from Italy and one from Spain for about 3.5 months this school year; and St. David's is collecting items to help detainees in Brownsville and a list of needed items is available at each table (Ed. Note: A copy of this list can also be found on page 6 of this newsletter.).
Josue Limon led the Thank Goodness Basket, and we heard from Mark Kapner, Brad Wiewel and Richard Payton, who shared troubling news from Ron Mullen about Carole (his wife).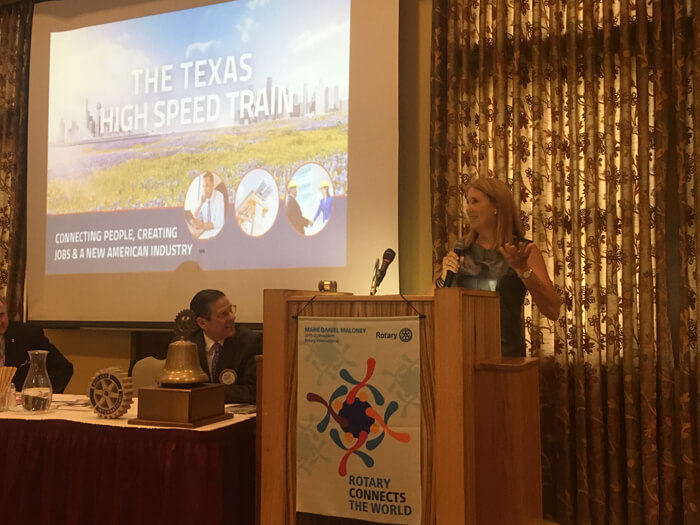 After several minutes of Fellowship, Tarby Bryant introduced this week's speaker, Holly Reed, who serves as the Managing Director of External Affairs for Texas Central. In this role Holly leads the team supporting the external initiatives of the multi-billion dollar high-speed train project connecting Houston to Dallas.
Holly reported that this effort is backed by private, not public, investment dollars and will allow passengers to travel between the two cities in under 90 minutes. Roughly 16 million trips are taken each year along this route, and 90% are done in motor vehicles. The project is currently in the planning and permitting stages; and once those preliminary efforts are completed, the actual construction will take another 5 to 6 years so the $15 billion train project could be up and running by the end of 2025.
The electric train is very quiet and is similar to a popular and very safe Japanese version. For more information, visit www.texascentral.com.

President Bill closed our meeting by recognizing newsletter sponsors Rick Ravel (Karavel Shoes) and Nick Hesselsweet (Genovations Decking & Railing). Next week's speaker will be District Governor Jim Henry.
More About Our Speaker: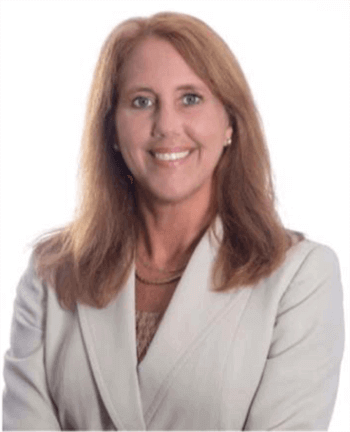 HOLLY REED
TEXAS CENTRAL—Proposed Bullet Train Between Dallas and Houston
HOLLY REED brings her love for Texas and for taking on big ideas to her role as Managing Director, External Affairs, for Texas Central. As a native Texan, she is passionate about bringing the train to her home state and sharing its benefits -– transforming how people think about travel, putting people to work and saving lives.
Working on the Texas high-speed train is a perfect fit for Holly, as it builds on her career of working on other transformative projects involving critical infrastructure. During Holly's 25-year career at AT&T, she helped facilitate network deployments of high-speed internet, mobility networks and communication infrastructure. Her background there includes leadership roles in Customer Service, Strategic Planning, IT, Sales, Marketing and Communications.
At Texas Central, Holly leads the team supporting the external initiatives of the multi-billion dollar project driving awareness of the positive impacts on jobs and economic development, growing support and coordinating with State, Local and Federal stakeholders. Her responsibilities include public policy, outreach, government relations and branding, media and communications activities.
Because tackling big projects is close to her heart, you might find Holly hiking or traveling in some remote corner of the globe. In her spare time, she can also be found running at White Rock Lake, playing golf or other sports with friends and family or attending anything involving her beloved Texas Aggies.