Reported by Jack Wolfe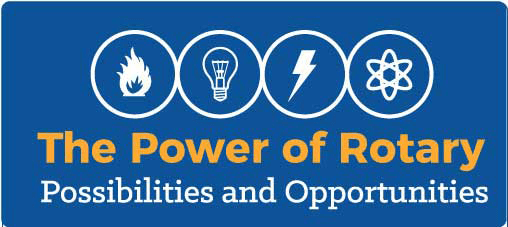 President Bill called the meeting to order. Ken King led the pledges and Past President Barry Curlee gave our invocation of the day. Healy Marroy led us in saying the Four Way Test. President Bill and Alison Michels greeted each member and guest as they arrived and Carl Noble introduced our guests and visitors.
Nick Hesselsweet traded in his Red Badge for a Blue one. Congratulations, Nick!
Mark Johnson reminded us to come the Helping Hand Home Splash Bash this Saturday from 9AM to Noon. Dean Murray stated last week that one of the counselors at the Home said this was the best day of the year for the kids.
Sylvia Holmes asked for our preferences on two possible dates for a social get-together on a boat with Austin Party Cruises on Lake Travis.
This was followed by Attila Horvath who asked for volunteers to sign-up to serve as weekly newsletter reporters; and then Edis Oliver took to the podium to share during the Membership Minute.
Mary Reynolds announced that any members who want to help the refugees on the border could donate items in the boxes downstairs at St. David's Church before July 26th (see the list provided on the tables for specific items that are needed). Also, she asked for volunteers for drivers for BookSpring to deliver to Medical Clinics. Contact Todd Coleman if you have questions or can help out.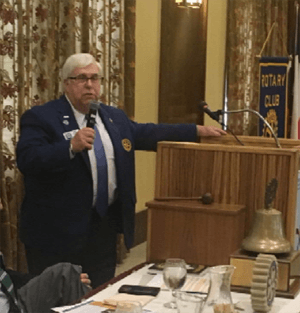 After Fellowship time, Past President Ronney Reynolds introduced our speaker, District Governor Jim Henry, who spoke about how grateful and humbled he is to serve as DG. He started by reminding us about two upcoming District events: the February 8, 2020, Foundation Gala and the May 1-3, 2020, District Conference in Boerne, Texas.
Jim then spoke about a philosophy class he took in college where the professor started the first day by giving a test. The test simply had the question "why" on it. Many students answered with long written pages. At the very next class the professor failed every student and stated the answer to the "why" was simply "because".
He went on to use this as a challenge to us as Rotarians to ask the question "why" we do what we do; and he's also using it as his District theme this year. Here are 3 questions he asked of us:
What is your passion in Rotary?
Why is that your passion in Rotary?
What are we going to do about it?
Jim talked about Rotary service and Rotary Foundation donations and the unexpected benefits to both. He spoke about how a $100 dollar annual donation (just $2 per week) to The Rotary Foundation can make a huge difference, including for things like: polio vaccines to save lives, text books in Zambia, blankets to those in need, U.S. business courses and $5,000 vocational scholarships right here in our District!
He added an emotional story about when his wife was gravely ill and fellow Rotarians from his Club stepped up to do his duty on a Rotary Fundraising effort. He said it was a powerful example of "why" we do what we do in Rotary. While remarking about his third question, Jim said if we, as Clubs, can figure out how to address this need with members it will lead to growth and member retention in our District.
Next week we'll hear from Dr. Raymond Harshbarger who will be speaking with us about our Club's sponsored El Salvador Cleft Lip/Palate Global Grant. Today's featured newsletter advertisements were Scott Rider (Rider Construction Group)  and Bill Koen (Joe Koen & Son Jewelers).
More About Our Speaker: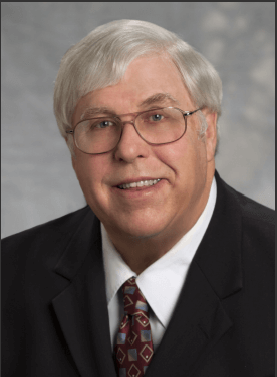 DISTRICT GOVERNOR JIM HENRY
Jim is a native Texan having lived in Texas all his life. He was born in Longview, attended one year at Kilgore Junior College and then transferred to Baylor University in Waco where he obtained his BBA degree and later his JD degree from the Baylor University School of Law.
Jim has always concentrated on real estate law. First at a law firm in Dallas, then as a principal in a small land title company in Lewisville, Texas. Jim then became
vice president and underwriting counsel for a large title company in Dallas.
Jim and his family moved to Austin in 1989 and Jim went to work for the Texas Department of Transportation (TxDOT) as a right of way attorney. He progressed to Deputy Director and Interim Director of the Right of Way Division for TxDOT. In 2000 he left state employment and joined a right of way consulting firm which was later purchased in 2015 by a larger company. Jim is now retired from full time employment.
Jim is the first in his family to be a Rotarian, having joined the Northwest Austin club in 1990. Jim is a very active member of the club having held numerous offices including President, President Elect, Vice President of Community Service, Club Service, International Service and Vocational Service and served on the club's Past Presidents Council.
He is a Rotary Benefactor, a member of the Paul Harris Society and a Major Donor. He remains very active in supporting all of the clubs projects throughout the community.
At the district level, Jim served as an Assistant Governor for four years from 2013 thru 2017. Jim also served on the district membership committee, concentrating on membership retention. Jim's passion in Rotary is membership. Not just obtaining new members but obtaining and retaining Rotarians.
Jim was married to his wife Pene for 33 years until her passing in January 2013. He has two grown children and two grandchildren. Daughter Kristen is married and lives in Gatesville, Texas. She teaches kindergarten and her husband Clayton teaches science in the high school and is also a high school football coach. Their son Cooper was born in January 2015 and daughter Kylie was born in July 2018. His son Brian lives in Austin and is employed by SHI, an IT firm where he concentrates on sales of business products to businesses throughout the country.