President Bill called the Rotary Club of Austin (RCA) to order, Past President Gaines Bagby led the pledges, and Ann Graham gave our invocation of the day. Adam Straznicky greeted each member and guest as they arrived, and Carl Noble introduced our many guests and visitors.
President Bill then introduced new member George Coker (sponsored by Myron Burse) and presented Alison Michels (sponsored by Jill Johnson) with her Blue Badge. Welcome, George, and congratulations, Alison!
Sharon Francia came up to remind everyone about the Wine Party at her home this Friday beginning at 6:30pm. Jim Bryce and Pauline Gubbels then announced that a New Member Orientation is scheduled after the meeting today. Sylvia Holmes let us know that the "Connect the Stars" Dinner Cruise has been rescheduled and will take place on Wednesday, October 9 on Lake Austin. Price is $85 pp which includes BBQ dinner with air-conditioned rooms available. RSVP Here.
Mary Reynolds was next up to share several volunteer opportunities:
Pecan Springs Elementary School's librarian needs help (weekly or bi-weekly) sorting and stacking library books. They also need folks to LISTEN to students read books aloud.
Early Act First Knight (EAFK) needs folks to attend the knighting ceremonies held roughly every 6 weeks at Dawson Elementary.
Mentoring is needed for students at Lively (formerly Fulmore) Middle School. Please see Mary for more information and to volunteer!
President Bill returned to the podium with a few announcements:
The monthly downtown breakfast cluster meeting will take place at Magnolia Café on Lake Austin Blvd. at 7am on September 11
The Executive Committee will meet next Tuesday after the weekly lunch meeting
The Scholarship Committee is meeting this afternoon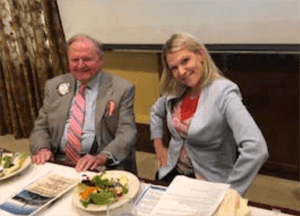 After a solid 15 minutes of enjoyable fellowship time, Tarby Bryant introduced this week's speaker,Cory Baker. Cory is the CEO of the Long Center for the Performing Arts, a world-class entertainment venue located in downtown Austin and home to the Ballet Austin, Austin Opera, Austin Symphony Orchestra and host to a variety of popular events and festivals serving our community.
Cory moved to Austin a few years ago from Scottsdale to take on this new role. She shared with us the history of the Long Center, beginning with its construction 11 years ago on the site of the old Palmer Auditorium (and where the Rotary Club of Austin used to meet years ago!) to becoming today's "Austin's Front Row" for community events and live performances.
Roughly 80% of the old building's materials were repurposed in the the new one! The Long Center construction and ongoing programming is funded almost entirely through private sources, including a membership program that offers a variety of support and benefit levels. Cory then entertained a variety of questions from the audience.
President Bill then recognized newsletter sponsors Scott Rider (Rider Construction Group)  and Bill Koen (Joe Koen & Son Jewelers). Josh Pruitt concluded the meeting with the Four Way Test. Next week's speaker will be Past District Governor Rich Kaye.
More About Our Speaker: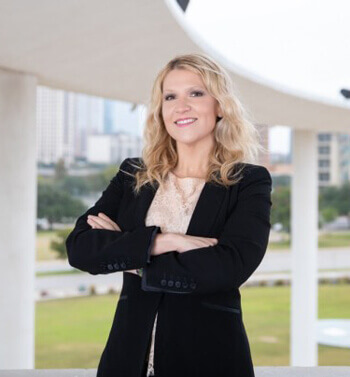 CORY BAKER
Long Center for the Performing Arts
Cory Baker is President and CEO of the Long Center for the Performing Arts in Austin, Texas. A world-class
entertainment venue located in downtown Austin, the Long Center is home to founding resident companies Ballet Austin, Austin Opera, and Austin Symphony Orchestra, and host to a variety of popular events and festivals serving the Austin community.
As CEO of the Long Center, Cory provides artistic direction, serves on the executive leadership team and works directly with the board of trustees. Cory oversees a wide variety of initiatives, including an eclectic mix of performances on two indoor stages, a nationally unique education programs and partnerships, community events and festivals.
Previous to the Long Center, Cory was Director of the Scottsdale Center for the Performing Arts and Vice President of the Scottsdale Cultural Council. Cory is currently the Immediate Past President of the Western Arts Alliance board and has served on the board for California Presenters, The City of Scottsdale's Tourism Task Force, and as a hub-site representative for the National Dance Project.
Cory holds Bachelor of Arts degrees in sociology and religious studies from Arizona State University and has more than 20 years of experience working in the arts.