Reported by Adam Straznicky
President Bill called the meeting to order. Dee Anne Heath led the pledge to the United States flag and Ann Graham gave our invocation for the day, concluding the blessing with, "May your humor keep you out of jail." Our greeters were Harold Benkoski and Nick Hesselsweet; and Myron Burse introduced our guests and visitors.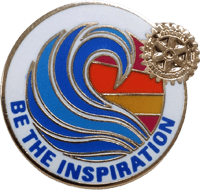 Audrey Hibbard (sponsored by Past President Barry Curlee) received her Blue Badge. Congratulations, Audrey!
Mary Reynolds shared a volunteer opportunity about EAFK–EarlyAct FirstKnight and was excited to also announce that Pecan Springs Elementary School, one of the schools we sponsor with EAFK, is not closing after all.
Jon Yates followed with an announcement about an upcoming Books for Me service opportunity. He also invited anyone to join him for a "free lunch" in Georgetown on Veterans Day at the Georgetown Rotary Club's Honor Flag Luncheon. Please let him know if you'd like to attend.
President Bill shared several announcements including reminding us about the next wine tasting party, hosted by Charles and Betsy Doty on Friday, November 22nd. The theme will be "The Great Northwest" (wines from Washington and Oregon.) We also heard that one of our long-time members, Patti Riley-Brown, passed away last Saturday.
After several minutes of Fellowship time, Amy Jackson (this year's Annual Ask Chair) began today's presentation about our Austin Rotary Club Foundation's (ARCF) Annual Ask Program. She posed the question, "What do we do?" We serve locally and globally, and this year's Rotary theme succinctly sums it up – Rotary connects the world.
Rotary is comprised of generous people. We pay our annual dues that provide for the operation of the Club, including our District and Rotary International dues, but don't go toward ANY of the good works we do.

Historically, the Rotary Club of Austin has held several fundraisers, including: bowling, golf, an art auction, a member roast and more. We switched to an annual giving program, Annual Ask, however, and it's the only time during the year when we collect donations to fund projects that we sponsor, including: Operation Vacation, EarlyAct FirstKnight, Lively Middle School, multiple literature projects, scholarships, Helping Hand Home for Children, Camp Enterprise, Rise Against Hunger and more.
"Why give? I give because it's my family doing good works locally and around the world," said Past President Ronney Reynolds. Amy reported that this year's donation goals for funding all of our good works for the upcoming year are to increase Club Project contributions to $90,000 and achieve 75% for member participation.
She announced that every member has been assigned to an Annual Ask Committee member, and you can wait for them to contact you directly to pledge or you can pledge via the blue cards on your tables or, new for this year, via the DONATE link on our Club website.
Thank you to Alison Michels (Evolve 360 Realty) for your newsletter sponsorship! The meeting closed with Audrey Hibbard leading the Four Way Test, then President Bill adjourned.