One of the first projects of the Rotary Club of Austin was its involvement with the Helping Hand Home for Children.
The Helping Hand Home for Children was established in 1893 as a home for abandoned children.  Today the home operates as a residential treatment program for severely abused children from ages 4 to 13 that come from all areas of the state of Texas.  The home generally houses between 35-40 children.
In 1925, the home had outgrown it's facility on East 11th street and the Rotary Club of Austin stepped in, donating land for a new facility on a  beautifully shaded lot at 3804 Avenue B in the Hyde Park neighborhood.  Helping Hand Home is still located at this site today.In 1995, Rotarians Bill Gaston, Brian Gaston and John Braziel led the club in projects that raised  a substantial amount of  funds to assist the home with the purchase of  The Rotary House which houses 8 boys of the Helping Hand Home.The money raised by club also helped pay for a new playscape for the home.  Rotarian Jack Nash donated the old Fire Truck on the grounds of the home and still maintains the upkeep on the truck where the children love to play.
Today, The Helping Hand Home Committee serves the home by hosting several events for the children.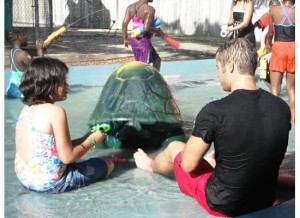 The past few years, the Club has hosted a "back to school" outdoor party with inflatable slides, face painting and water activities.The main event hosted by Rotary for the home is the annual Christmas party where Santa visits the children and brings gifts that the children have selected from their "wish list."  Last year was the 90th year that the Rotary Club of Austin brought Santa and gifts to the children!   The Christmas Party, thanks to the fabulous volunteers of the Helping Hand Home Committee, continues to be an amazing event where the true spirit of Christmas fills the home and hearts of all involved.
Meeting Time & Location
Tuesday at 11:45 AM
(Inside Ben Hur Shrine Temple)
7811 Rockwood Ln.
Austin, Texas
USA