Reported by Russell Gallahan
President Julie called our meeting to order.  Jim Gdula led the pledges and Sylvia Holmes gave our invocation of the day.  Jack Lubben led us in saying the Four Way Test.  Chris Forrest greeted each member and guest as they arrived, and David Palmer introduced our guests and visitors.
Joseph Hang shared a two-minute Membership Minute with us, then Diane Ventresca came to the podium to invite us all to the Wine Tasting she and Zach are hosting at the end of the month on Friday, March 29th.  There isn't a specific theme — just bring a bottle of your favorite wine and tell us why it's your favorite!
Jon Yates asked for volunteers to lead the pledges, invocation and Membership Minute at our lunch meetings in April and May; and Mary Reynolds reminded us about the Storybook Heroes Luncheon to benefit BookSpring on April 26.
Caroline Valentine gave a Global Awareness Update and introduced us to their newly added effort, "Global Perspectives".  If anyone is interested in learning more about Global Services, you're urged to join one of their committees.
President Julie exchanged Club banners with a visiting Rotarian couple from Dover, UK, then she shared the following announcements:
Don't forget to check-in on Facebook and MeetUp.com.
Also don't forget that we will not be meeting at St. David's on March 12 or March 19th.  Instead,  we will have our Semi-Annual Cluster Meetings on the 19th.  Today is the last day to sign up!
The Scholarship Committee will meet today after lunch down in the Vestry Conference Room.
District Governor Jerry Chapman is asking all Rotarians to join him and "Be The Inspiration" at the Conference of Clubs on May 3-5, 2019, at the historic Menger Hotel in San Antonio.  If anyone is would like to contribute a bottle of wine or other item for the silent auction to be held at the conference please let her know.
Josue Limon led today's very busy Thank Goodness Basket.  Joseph Hang was first up and told us how he and his wife sponsored a student scholarship at his church in honor of their 50th anniversary. Vlad Bahrencu wore his "Best Dad Award" necktie drawn by his daughter.  Barry Curlee urged members to take a picture at today's meeting and post it on social media to build awareness about Rotary and our Club.  Rick Ravel congratulated the Texas Longhorns men's swimming and diving teams for 40 consecutive years of conference titles after winning the Big 12 Championship last week.  He also congratulated the women's team since they won the Big 12 Championship for the seventh consecutive time.  Hook'em!  Mark Kapner spoke about the success of the recent Career Day at Pecan Springs and urged the club to do it more often and for more members to participate.  Sylvia Holmes told us about her father's upcoming prostate cancer treatment in May.  Ann Marie Ellis spoke about the phenomenal participation by the Club in Rise Against Hunger. We provided 116 volunteers for the event!  Mary Reynolds shared some of the accomplishments of long-time member Dr. Rod Simonsen who passed away recently.  These included that he started a local rehabilitation hospital while raising 7 kids with his wife Helga. He will be greatly missed! "Don't let life pass you by," was one of his mottos.   Ronney Reynolds congratulated Bruce Golden on his birthday and recorded all of us singing "Happy Birthday" to send to him as he recovers from illness at home.  He also reminded us that Texas Independence Day was on March 2.  Finally, President Julie reminded us that we are half way towards our membership goals for the year and thanked Board members and Committee chairs for their efforts to reach our objectives.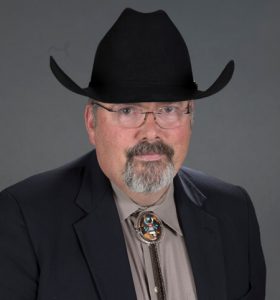 Tarby Bryant introduced his friend and today's speaker, Seth Hopkins, Executive Director at Booth Western Art Museum in Cartersville, GA.
Seth spoke about the vast collection of western art on display in the 120,000 square foot facility and shared many images from art exhibits on display.  Much of it is available for sale, and works from many Austin/Texas artists are represented in the collection.
He discussed an upcoming expansion of the facility to include a large collectable car exhibit; and he spoke at length about Andy Warhol's interest in western art and his (Andy's) affinity for cowboy boots.
He recommended the Insight Gallery in Fredericksburg as another, closer art museum for those with an interest in western art.
At our next meeting, on March 26th, we'll be joined by Claire England who is the Executive Director for Central Texas Angel Network (CTAN).  President Julie closed the meeting by highlighting newsletter advertisement sponsors Corey Wilson (Kidd Roofing) and David Doran (Texas Systems Group).
More About Our Speaker: