Reported by Bobby Brown
Hola!  This is Bobby Brown, February's Rotary Reminder reporter.  Today is February 12, 2019, and it's a wonderful day to be a Rotarian!  Don't forget that February 14th is Valentine's Day.  This is the month to celebrate love.  So acknowledge your main squeeze!  If you don't have a main squeeze, celebrate the month of love by "doing a Rotarian good deed for someone in need".  Check out the song Saint Valentinus by yours truly, Robert Christopher Brown!
Thanks to our great staff:  Greeter Larry Reiber, Host Carl Noble and Sgt.-at-Arms Jon Yates.  The call to order was made by our wonderful President Julie Benkoski!  Jack Nash led us in the pledges, Maxie DeBlanc gave a beautiful Invocation and the Four Way Test was led by Tarby Bryant.  You just can't help but beam with pride to belong to a group that opens every Tuesday meeting with a salute to God, country, state and goodwill to all!
Visitors were announced, and we welcomed guests from Des Moines to Nigeria.  We are all one community of mankind.
Our Membership Minute was provided by Harold Benkoski.  After a warning from his wife that she was timing the minute, Harold told us that he is a Senior Vice President at Merrill Lynch.  For Harold his position is more than a job, it is a ministry — to help organize, execute and plan for the financial goals of his clients.  Harold recently attended a Rotary International Conference and was delighted to tell us that around 25,000 Rotarians attended from all over the world and all are giving scholarships, managing grants providing vital services like clean water, and doing good works for humanity.  Harold said, "Better the world not just ourselves."  Now that's what it's all about!
Ann Marie Ellis called us all to duty to help out at Rise Against Hunger.  On February 23rd we'll be at Tarrytown United Methodist Church with shifts from 8:00-10:00 AM and 10:00 AM-1:00 PM.  Bring family and friends, and kids are welcome!  Rise Against Hunger not only feeds the hungry in many countries, it is a stream of positivity in the health of the communities it serves.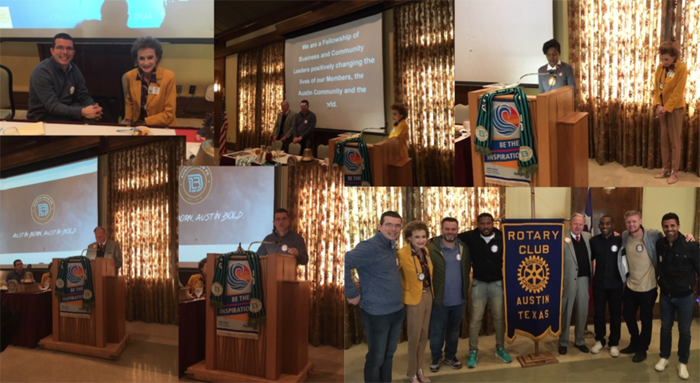 The regular Tuesday lunch meetings on March 12 and March 19 will NOT be held at St. David's because of SXSW and Spring Break.  Instead, on March 19th, we'll hold our Semi-Annual Cluster Meetings.  Please volunteer to host!
An Executive Committee meeting will be held after the February 19thregular lunch meeting. Please attend if you are a red badger needing to punch your Executive Committee/Financial meeting ticket.
Jack Mayo's memorial service will be held on Wednesday evening, February 13th; and his funeral service will be on Thursday, February 14 at 2:00 pm at Weed-Corley-Fish Funeral Home.  Nita Louise (Mayo) has asked that you please introduce yourself at the viewing.
The annual Membership Soiree was a success with fourteen new members who submitted applications!
"Only humans can give each other blood" was the call by President Julie to come out at St. David's on Tuesday, May 14th for a much needed blood drive.
Let's get ready for some Football — Soccer is coming to Austin!  Not just any soccer team, though, it's Austin's International Team, the Austin Bold FC!  The #1 valued team, according to those who keep track of such things.
Bringing community together in the newly under-construction soccer field at the Circuit of Americas venue.  General Manager Roberto Silva inspired our group to the values of his soccer team (paraphrasing) "It's not just about having good soccer players, it's about having good soccer players that are also good people!"
Austin Bold has recruited 26 players from 16 nationalities.  The team plays on private property with private funds and they pay taxes in the Austin community.  You can become a sponsor or donor to the team.  Your donations help buy tickets for the underprivileged who can't afford tickets to get them free!
President Julie adjourned the meeting and gave us a great thought for the day.
"The secret to change is to focus all of your energy, not on fighting the old, but on building the new."  Socrates
More About Our Speaker: