Reported by Andy Swanson
President Julie called the meeting to order.  Jackie Sinex led the pledges and Michele Heyman gave our invocation of the day.  Jim Bryce led us in saying the Four Way Test.  Maxie DeBlanc greeted each member and guest as they arrived and Russell Gana introduced our guests and visitors.
President Julia introduced our newest member – Rupal Chaudhari (sponsored by Mark Johnson). Welcome, Rupal!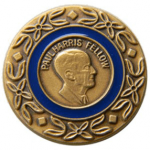 Paul Harris Fellowship Awards were presented to Tom Anderson (PHF Initial), Vlad Bahrencu (PHF +1) and Rich Fikani (PHF +2).  Please congratulate them all!
President Julie noted that everyone is invited to a wine tasting at Peter Pfeiffer's home on River Road in Tarrytown on Friday, April 26.  Please put this on your calendar!
Mark Kapner provided the Membership Minute.  He has been a Rotarian for 18 years.  He was brought up on the Hebrew tradition of "healing the world" and this led him to getting involved with Rotary.  The moon landing in 1969 sparked his interest in engineering; and he studied engineering in college and then worked in the energy industry.  He recently formed a company called Kapner Solar and is looking for investors.
Tillery Castillo announced our Spring Social Event that will be held at President Julia and Harold Benkoski's home on Saturday, May 18 from 4-6pm.  Please plan to attend and bring your family or a friend!  This will be a casual and family friendly event.
Andy Swanson gave an announcement regarding an upcoming service project with Habitat for
Humanity.  He is confirming the date for our group and will let everyone know once it has been set.
Ann Graham led today's Thank Goodness Basket, and we heard from a number of thankful Rotarians including:
Tom Locke, Sylvia Holmes, Mark Johnson, Michele Heyman and Sherry Workman.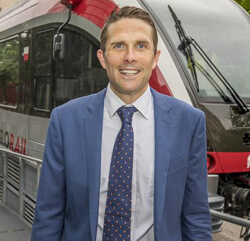 Tarby Bryant introduced our speaker, Randy Clarke, who is the CEO of Capital Metro.  Randy has been CEO at Cap Metro since March 2018.  He is originally from a small town in Canada.  Thus, he is still learning about Austin, but he said he truly feels that Austin is the friendliest place he has ever been!  He conducted a quick poll of the audience and found that a number of our members had never used Cap Metro or any kind of public transportation.  He spoke about the value of transit and the need for continuing to improve our transit system as our population continues to grow at a rapid pace.
Randy stated that, like our Four Way Test, transit needs to be fair and it needs to be beneficial to everyone – it must treat everyone equally.  Cap Metro has improved and added new bus routes.  By taking more people off road and putting them on mass transit – this improves driving conditions for others.
Over the next 18 months they will be focusing on community engagement – looking for feedback from the community about wants and needs.  Randy feels that Cap Metro must do more to contribute to the community, but he thinks that communication with the public is more challenging than ever.  With proper planning, we can manage our growth, but we'll need to build infrastructure to support all of the new large developments across the region (i.e. Plaza Saltillo,
Domain, McKalla Place).  We must think regionally in order to build a cohesive plan for transit.
Randy discussed several of Cap Metro's rail lines, including two new ones:  The Blue Line would run from the airport along Riverside Drive to the convention center.  The Orange Line would run north/south through Austin.  The existing Red Line needs to turn into the "workhorse" for commuters.  Now have electric powered buses in service and are constructing an electric charging facility in north Austin near Burnet Road and US 183.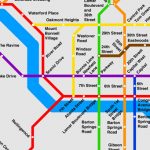 The Cap Re-Map project has recently redesigned the bus network to better fit user needs.  Since June 2018, ridership is up every month.  Will be opening a new park-and-ride station at Westgate in South Austin.  Currently working on Project Connect – a multiyear planning project to improve Cap Metro and build for the future (https://capmetro.org/ProjectConnect/).  They are ready to try to help deliver solutions as the Austin area grows from 2M people to 4M people over the next 20 years!
Next week we'll hear from Jeff Moseley – CEO, Texas Association of Business.  We then recognized and thanked Corey Wilson (Kidd Roofing) and David Doran (Texas Systems Group) for sponsoring the newsletter!  Thought for the Day from President Julia:
"Believe in yourself!  Have faith in your abilities!  Without a humble but reasonable confidence in your own powers you cannot be successful or happy."

– Norman Vincent Peale.
More About Our Speaker: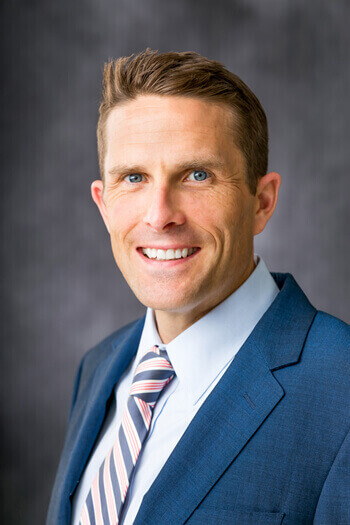 RANDY CLARKE
President & CEO of Capital Metro
Randy Clarke has been the President and CEO of Capital Metro since March 2018.
For the previous two years, he served as vice president of operations and member services at the American Public Transportation Washington, D.C. Association (APTA) in
Prior to that, he spent seven years in various positions with the Massachusetts Bay Transportation Authority (MBTA) in Boston, including deputy chief operating officer.
Clarke was a key member of the senior leadership team at the MBTA, which provides 1.2 million trips daily. He was featured in Mass Transit magazine's 2011 "Top 40 under 40" list, which highlights leaders in the transit industry nationwide.
He is a graduate of Acadia University in Nova Scotia and holds a master's degree in public policy from the University of Southern Maine.