Meeting held on July 5th, 2016,
Recorded by Phil Thoden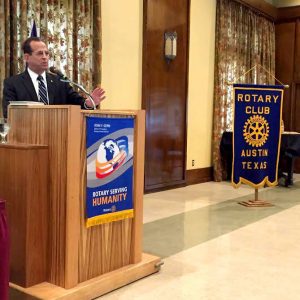 President Dale Lowe called the meeting to order. Kathy Laurel led the pledges and Bill Baker gave our invocation of the day. Griffon Ramsey led us in saying The Four Way Test. Elliot Flick served as greeter and Arnold Garcia introduced the guests and visitors.
Ellen Hunt introduced our Club's Graduate Student Scholarship recipient, Madeline Baird, who thanked everyone for the financial support that will help her pursue the study and containment of infectious diseases. Mark Kapner provided a Global Awareness Update about the Water and Sanitation Rotary Action Group (www.wasrag.com) that has recently helped dig 20 clean water wells in Ghana.
President Dale then reminded Club members to use Meetup and Facebook to sign up for Club meetings and let people know about our ongoing activities. Also, he noted that the "Thirsty Thursday" Happy Hour, this Thursday, July 7, will be held in a new location at the Four Seasons Hotel lobby bar.
After 10 minutes of fellowship time, Jim Bushnell introduced our speaker and fellow Rotarian, Mike O'Krent. Mike is the founder of LifeStories Alive, LLC, and specializes in making personal history videos for families that value their heritage. While working in his family's retail floor covering business in San Antonio, Mike interviewed Holocaust survivors for Steven Spielberg's Survivors of the Shoah Visual History Foundation between 1996 and 2000.
During that incredible experience, Mike discovered the process and importance of recording the life stories of our loved ones. After moving to Austin in 1998 and selling his floor covering business there in 2004, he started LifeStories Alive at the end of 2005. His company has since expanded its expertise beyond personal histories to now include recording the histories of businesses and non-profits.
During his excellent and insightful presentation, Mike shared numerous tips for how anyone can work to capture important stories of family members. He is finalizing a book on this subject that will soon be published. He also shared video clips of his recent, and emotionally moving, work.
Next week's speaker is Hank Perret with the Central Texas Food Bank.