Reported by Brad Wiewel
President Bill called the meeting to order. Jessica Diaz led the pledge and Past President Sherry Workman gave our invocation of the day. Myron Burse and Manny Cavazos greeted each member and guest as they arrived, and Carl Noble introduced our guests and visitors.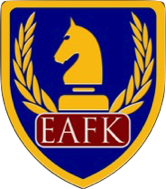 President Bill traded Gary Gerstenhaber a Blue Badge for his Red one; then Mary Reynolds thanked everyone who contributed candy for Pecan Springs Elementary School's Fall Festival. She also mentioned they still need volunteers to help with pizza for the PTA meeting on October 24th. Finally, she reminded us that Early Act FirstKnight (EAFK) knighting ceremonies are scheduled at Pecan Springs Elementary at 8:15 on Friday, October 18, and at 1:30 at Dawson Elementary that same afternoon.
Dr. Michael Abelson announced a Halloween Wine Tasting Party at his home on Friday, October 25th, and Scary Wines are theme – so get going on finding some of those and RSVP to let him know you're coming!!
Josue Limon led the Thank Goodness Basket, and we heard from Rick Ravel, Don Ray George and George Coker.
President Bill then explained why we need to move from St. David's to a new meeting location. Our leadership has identified Sterling Events Center (6134 E. Hwy 290) as the best potential option. To "test" that, the Club will be meeting there on October 29th. Don't forget — our regular lunch meeting with be at STERLING EVENTS CENTER (NOT AT ST. DAVID'S) on Tuesday, October 29!
After several minutes of Fellowship, Tarby Bryant introduced Mike Heiligenstein of the Central Texas Regional Mobility Authority, who spoke about some of the Austin area's current traffic issues and what the Authority is doing to address those problems.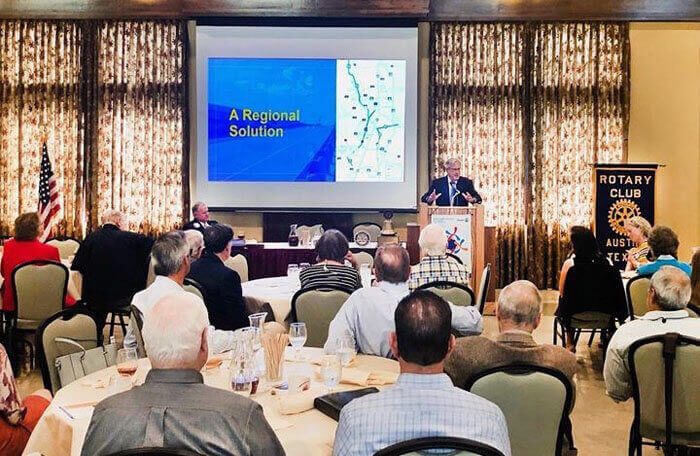 Among the facts Mike shared were: The Authority has been in existence since 2002 and now has $2.5B in assets and another $1.5B expected. There are currently 1,000,000 transactions each year on Mopac alone. It is costing $750M to build US 183 South. About 42% of the roads the Authority builds are not toll roads, but free access roads. And construction of Mopac South should begin in 2021.
Next Week's Speaker and Topic: Jill Gonzales with the Women's Storybook Project.
President Bill thanked our featured newsletter advertisers Rick Ravel (Karavel Shoes) and Nick Hesselsweet (Genovations Decking & Railing). Adam Straznicky led us in saying the Four Way Test; and President Bill adjourned the meeting at 1:00 p.m.
More About Our Speaker: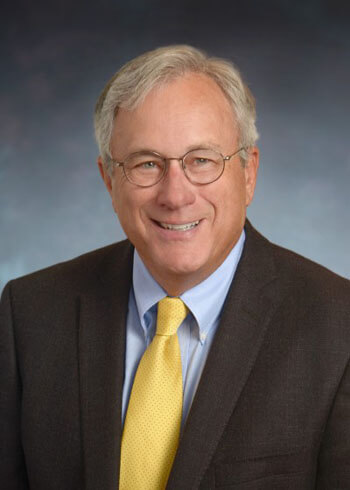 MIKE HEILIGENSTEIN
Central Texas Regional Mobility Authority
Mike Heiligenstein has a long career in the development of infrastructure in Central Texas, and currently leads the Central Texas Regional Mobility Authority. The Mobility Authority is an independent government enterprise created in 2002 to develop a modern, regional transportation network that became operational in 2003 when Mike was chosen by the Board of Directors to lead the agency.
Mike began his career in Austin/Central Texas region, developing infrastructure in 1980 upon his election to the Round Rock City Council and later chaired the Water Development Committee of the Council as Mayor Pro-Tem. Since then, he has served as County Commissioner for the fast growing Williamson County, and has had an uninterrupted 38-year career of Policy/Executive-level infrastructure development in various types of utilities and transportation. Mike has represented the citizens of the fast-growing Central Texas area by serving as an elected official for 23 years and helping lead efforts to expand water, wastewater and transportation infrastructure.
While an elected official Mike served on the Austin Public Transit Taskforce that led to the creation of the Capital Metropolitan Transit Authority. He also served on the regional Metropolitan Planning Organization for 8 years; vice-chaired the Austin-San Antonio Corridor Council, chaired the Clean Air Force of Texas and helped lead many other community infrastructure initiatives. Upon becoming the Executive Director of the Mobility Authority, the agency had no roadways under construction, no revenue and no staff. Now the Mobility Authority has over $2 Billion in assets with 231 lane miles open to traffic and another 155 lane miles under construction, serving over 2 million Central Texans.
Mike was selected by his national peers to be the President of the International Bridge, Tunnel and Turnpike Association and is a member of the Advisory Council of the Texas A&M Transportation Institute, as well as several other committees and working groups dealing with transportation issues. He is also currently serving on the Texas Department of Transportation's Texas Technology Task Force, and the National Federation of Municipal Analysts Committee on Toll Road Recommended Best Practices.
Mike is called upon both nationally and in Texas to speak to groups about infrastructure, particularly transportation, and is known for his commitment to seeking solutions to some of our most challenging mobility issues.
Mike is a graduate of the University of Texas and holds Master's Degrees in both Government and Business Administration.