Reported by Phil Thoden
Past President Harold Ingersoll called the meeting to order. Mavi Chapa led the pledges and Margaret Curtis gave our invocation of the day. Josue Limon led us in saying The Four Way Test. Larry Rieber greeted each member and guest as they arrived and Carl Noble introduced the guests and visitors.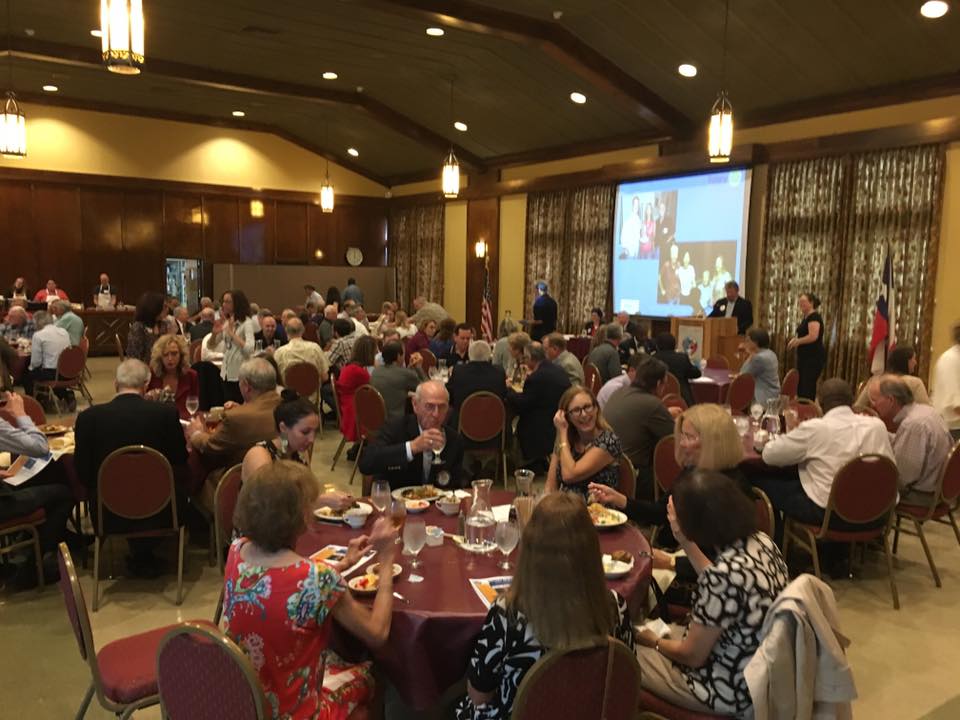 Tillery Castillo came forward to remind us about the Pints for Polio event scheduled for Wednesday, October 18, at the JW Marriott Rooftop Bar beginning at 5:30pm. Members are welcome to bring guests, whether or not they are potential new members.
Jon Yates brought us up to date about the Pecan Springs Literacy/Halloween/Book Fair Night scheduled for Thursday, October 26. Please bring any new, unopened bags of candy to our Rotary lunch meetings between now and October 17 and give to Mary Reynolds or Vicky Lindsey. No chocolate candies, however, as those may melt before distribution.
Past President Gaines Bagby reminded everyone about the upcoming Wine Tasting he will host with Leslie (Bagby) at their home (6501 Rusty Ridge Drive) on October 20 beginning at 6pm. The theme for the evening is California Dreamin' so bring your favorite bottle from the Golden State.
David Doran came forward to give a brief overview of the Rotary Group Youth Exchange (RGYE) programs that help build peace one student at a time.
Ellen Hunt and Luma Jaffar gave an update on fundraising for the Iraqi Children Foundation that is collecting iPads and raising additional funds through a GoFundMe campaign.
Past President Harold presented Peter Pfeiffer with his Blue Badge (congratulations Peter!) and then made the following announcements:
Don't forget to use MeetUp.com to sign up for the weekly Club meeting
Volunteers are needed to serve as reporters and photographers for the weekly Rotary Reminder. Make-up meeting credits are given to those who volunteer! See Jennifer to sign up.
Early Act First Knight (EAFK) Knighting ceremonies will be held on October 6 (8:30am) at Pecan Springs Elementary and October 11 (1:30pm) at Dawson Elementary.
Fall Cluster Meetings will take place at RCA member offices across Austin on October 24. Sign up today since spots fill on a first-come, first-served basis!
Ann Graham then hosted the Thank Goodness Basket and, with the contributions having reached the $1K mark, she drew a Paul Harris Fellow winner at random. Congratulations to Ron Greening!
Margaret Curtis started the basket contributions by noting she recently attended the 100th anniversary of the Rotary Club in Bellingham, Washington, but is happy to be back in Austin. John Fox was grateful for the success of his brother's recent heart transplant. Rick Ravel was proud of his recent performance in a Master level swim meet. Ladd Patillo said he has been travelling quite a bit but did manage a make-up meeting aboard the QE2 ship. Michele Heyman reminded us of the upcoming Williamson County Symphony Orchestra concert.  Don Cook was proud of his grandson who became an Eagle Scout, following in the footsteps of his father and grandfather. Luma Jaffar was excited to be selected for Leadership Austin. Peter Pfeiffer encouraged us to visit the Lost Pines Art Center that he helped design in Bastrop. Mary Reynolds let us know that her daughter is recovering well and will be returning to
work soon. Last, Ann Graham said that student interviews and preparations for Camp Enterprise have been moving along well.
Michele Heyman then introduced our speaker, Mickey Batsell, who is an experienced industry professional specializing in long-term care, retirement planning and surrounding issues including Medicare, Medicaid, home healthcare, nursing homecare, wealth transfer, and the selection of long-term care facilities. He has appeared as a regular radio talk show guest presenting information and fielding questions on matters relating to the industry.
Mr. Batsell delivered an informative presentation on Medicare, a government program that was created in 1965 and covers health care for most seniors aged 65 and above. It is divided in 4 parts:
Part A: Hospital/Hospice insurance
Part B: Medical insurance
Part C: Medicare Advantage plans
Part D: Prescription drug plans
His comments generated many questions from the audience, and he was able to provide very informative answers.
Past President Harold thanked our featured sponsors for the day, Kidd Roofing (Corey Wilson) and
Texas Systems Group (David Doran).
He ended the meeting with a Pearl of Wisdom from President Sara by Admiral William McRaven, UT
System Chancellor. The meeting was adjourned just after 1 pm.