Recorded by Leslie Bagby
President Dale Lowe called the meeting to order right at noon. Mary Reynolds led the pledges and Past President Sherry Workman gave the invocation. Kimberly Gdulaled us in reciting the "FOUR WAY TEST". Kimberly w as also w as our Greeter at the top of the stairs and Daryl Benkendorfer w as our Host who introduced our visitors and guests.
Tillery Castillo announced the Camp Enterprise inform ation meeting today at 1:15 pm . There will also be a happy hour for those interested in Camp Enterprise at the home of Tillery Castillo next Tuesday, August 16, 2016 from 5:30 – 7pm. Her address is 1805 Polo Road. Come by and hear about CE!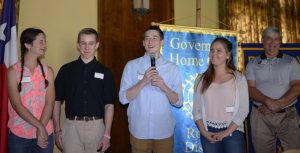 Diane Ventresca introduced the five Group Youth Exchange (GY E) students and their team leader, Danny Swafford, who recently returned from Perth, Australia. They gave a presentation on their experience "Down Under." The Rotary Club of Austin and the Georgetown Rotary Club will sponsor incoming GYE students in December and are seeking host families. Contact Diane Ventrescaif you are interested.
The Rotary Foundation turns 100 years old this year. Michael Portman explained that there is a double match with the RCA and the Jerry Johnson Trust Fund (through our District) for the months of August and September only. Members can become first time Paul Harris Fellows for only $333 instead of $1000. The goal is for every member of our Club to be a Paul Harris Fellow. Michael also led the Thank Goodness Basket. We heard from: Michele Heyman, Adam Borger, Lee Yeakel, Jim Bryce, John Fox and Mary Reynolds (who is very thankful for Barry Curlee and the Half Priced Books Committee for collecting over 1200 books in 1 month!).
Jim Bushnell introduced the Member Show case for today's program. Dick Brown, Sara Pantin and Jackie Sinex all spoke about their Rotary experience as well as their different careers.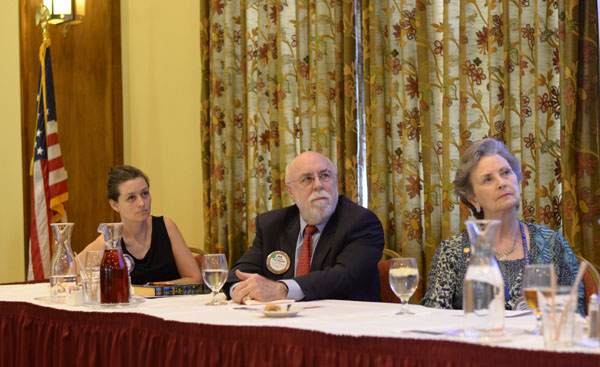 Past President Dick Brown told us about his almost 30 years in Rotary and his years practicing law including being Board Certified in Estate Planning and Probate Law. Dick stated that the biggest problems for people occur when they don't think they need a will yet, but then actually do. He has also represented clients who had a will, however it was poorly written causing confusion over interpretation. Both of these situations are not good for the families, but do provide many billable hours for attorneys.
President – Elect Sara Pantin spoke of her career path that led her to Palo Alto and to Rotary, eventually serving as President of that club. Sara gained valuable experience as a senior executive to a major insurance and financial services company during the .com boom. As a sixth generation Texan, she moved back to Texas with husband Mike to be near family. In 2004 she co-founded Asset Strategies Group and enjoys helping each client achieve his or her financial goals. Sara has served Rotary in many ways and will be our 2017-18 President.
Jackie Sinex has worked for over 18 years in website development and online marketing with her company WEBii. She developed the Rotary Club of Austin's website in 2014 and felt so strongly about what she learned about Rotary that she became a member! Jackie has been instrumental in helping our Club advance in the area of social media. Jackie is married to her husband, Ray, and has two children, ages 9 and 11.