Reported by Reggie Nisbett
There was a little taste of winter and the skies were grey as the members began to gather for today's meeting. It wasn't long before the room was full of sunshine and fellowship as well over 100 members and guests came to their feet at the sound of the Rotary bell that President Julie struck at noon.
We started with the pledges and they were led by Past President Dick Brown. The invocation was offered by red badge member Ray Kang and the Four Way Test was led by another red badger, Jeff Fazio. Our greeter at the top of the stairs today w as long-time member Chris Forrest. Carl Noble did his usual good job introducing our guests and visitors, of which there were nine. They were from Massachusetts to California and a few in between.
Congratulations were extended to red badgers Cindy Brummer and Larry Rieber as they have now satisfied all the requirements and accepted their blue badges! The Membership Minute was presented by Mike O'Krent. He had a good motto: People die, but their stories don't have to. Life Stories Alive is the name of his company and this Club knows first hand how well he does it! Most of us will remember the video documentary he produced for our Centennial Celebration. You should look it up on our website if you haven't seen it!
Next on the agenda were announcements. We heard from Mary Reynolds first. She reminded us about the science fair at Pecan Springs that's coming up on January 31 — they need judges to volunteer! We also were reminded, by Ann Marie Ellis, about the Rise Against Hunger Event coming up on February 23rd. We still need many more volunteers for that, too! Finally, our annual Membership Soiree is at the Headliner's Club on February 7, and Tillery Castillo needs every member with a prospect to show up!
Today was a busy day for the Thank Goodness Basket, which was led by our Sergeant-of-Arms Josue Limon. First, a Paul Harris Fellowship was awarded to David Menchaca, whose name was drawn from the participants who contributed toward the last $1,000 to the basket. We had lots of good news to be thankful for from numerous Rotarians. They included Mike O'Krent who recorded TED Talks recently, as well as Dr. Michael Abelson, Sherry Workman, Roger Williamson, Dr. Pat Beckham, Ladd Pattillo and Mark Kapner.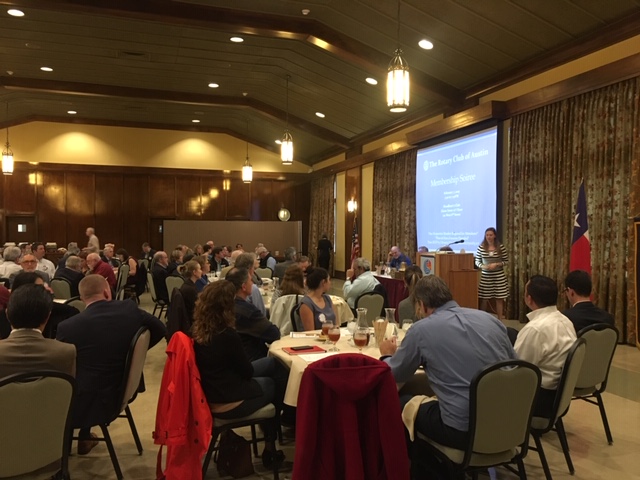 We also heard from Myron Burse. Myron spoke from the heart about the burden of those affected by the partial government shutdown, especially two of our own members and their local office with the FBI. He contributed $100 toward helping these federal workers and was immediately matched by President Julie with another $100. He encouraged all of us to lend a hand, and the Thank Goodness Basket was passed around the room for donations. More than $2,000 was collected from our generous members! Good job Myron!
Our speaker today was introduced by Mark Kapner. His friend Kenan Ogelman is ERCOT's vice president of Commercial Operations, overseeing Market Operations, Settlement and Retail Operations and Market Design and Development. In short, ERCOT runs and maintains reliability on the power grid. They collect and distribute money, about $17 billion dollars' worth.
The Electric Reliability Council of Texas (ERCOT) manages the flow of electric power to more than 25 million Texas customers — representing about 90 percent of the state's electric load. As the independent system operator for the region, ERCOT schedules power on an electric grid that connects more than 46,500 miles of transmission lines and 600+ generation units. It also performs financial settlement for the competitive wholesale bulk-power market and administers retail switching for 7 million premises in competitive choice areas.
ERCOT is a membership-based 501(c)(4) nonprofit corporation, governed by a board of directors and
subject to oversight by the Public Utility Commission of Texas and the Texas Legislature. Its members include consumers, cooperatives, generators, power marketers, retail electric providers, investor-owned electric utilities, transmission and distribution providers and municipally owned electric utilities.
You just should have been there to appreciate it all! There was a lively and extended question and answer session of about ten minutes. See you next week!
More About Our Speaker: