Reported by Girish Altekar
President Julie called the meeting to order.  Jim Innes led the pledges and Carl Noble gave our invocation of the day.  Jon Yates led us in saying the Four Way Test.  Nick Hesselsweet greeted each member and guest as they arrived and Carl Noble stepped back up to the podium to introduce our guests and visitors.
Congratulations to John Fox (PHF +2), Pauline Gubbels (PHF +8) and Debbie Simmons (PHF +2)!  We
appreciate your continued support of The Rotary Foundation!
Past President Sara Pantin described her Rotary journey that started 26 years ago in California during the Membership Minute.  She joined the Silicon Valley Club as a corporate executive to network and stayed on for a decade after she found herself attracted by service and the people, ending as the President of their Club.  She came back to Austin around 2001, joined our Club and has served in many roles, including Club President of the Rotary Club of Austin in 2017!  She currently serves on our Foundation's Board of Trustees.
Tillery Castillo reminded us about the Spring Garden and Membership Party that the Benkoski's are hosting at their house this Saturday.
Caroline Valentine announced our Club's inaugural Global Perspectives Dinner which will be held at Napa Flats Wood-Fired Kitchen on May 23rd.
President Julie reminded us to check-in on Meetup and Facebook, and she also reminded us about the Mastermind Group Meeting coming up this Thursday morning as well as the EarlyAct FirstKnight (EAFK) knighting ceremonies coming up at Pecan Springs and Dawson Elementary Schools on Friday.
We heard about two SAVE THE DATE events coming up soon – Our annual Changing of the Guard Party will be on June 26th at Matt's El Rancho and the Back-to-School Splash Bash that we host every year at the
Helping Hand Home for Children is coming up on Saturday, July 27th!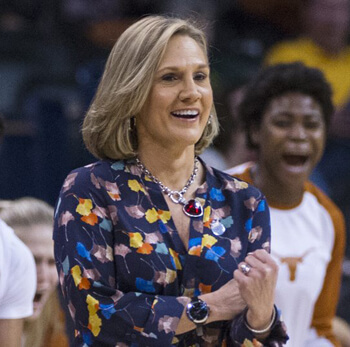 After several minutes of Fellowship, Judge Sylvia Holmes introduced our speaker, Coach Karen Aston, who spoke about her team building responsibilities as the UT Women's Basketball Coach.  Sylvia remarked about Coach Aston's practice of wearing 3-inch heels, even while coaching at the games.
Coach Aston acknowledged that she does wear 3-inch heels, not just to overcome her short physical stature, but also to ensure that her team knows that they are being taught by a professional woman coach who brings a tough package in a small body.
She mentioned that her team members are all outstanding young ladies who work hard at their two jobs
(as students and as basketball players).  They are engaged in their sport for nearly the entire year, including the summer months when they also take extra courses to catch up with their academics.  Coach remarked that this year her team has been fun to watch with an attractive playing style, and next year they will be even better as three potential starters recover from their injuries.  She invited us to come see them at a game and get to know the players!
Coach Aston's coaching philosophy is that being a part of the team must be something that you are passionate about because it will change your life.  Her job is to teach "her girls" about the 4Cs:
Commitment, Communication, Care and Character as the driving characteristics of a successful team.
She concluded that it takes special kids to succeed both in UT academics and basketball, and she would like to work with us to involve her team in volunteering in some of our community service activities since they enjoy "giving back" in addition to playing basketball.
President Julie previewed our next speakers/programs:  On May 21 we'll hear from Derek Tinker and Bill Hays from Switch Energy Alliance, and on May 28 we'll be joined by Jonathan Coon with 1-800 Contacts.
President Julie thanked our featured newsletter sponsors for the day: Rick Ravel (Karavel Shoes) and Michael Abelson (The Abelson Group).  She closed with a Thought of the Day, and adjourned right at 1:00.
More About Our Speaker: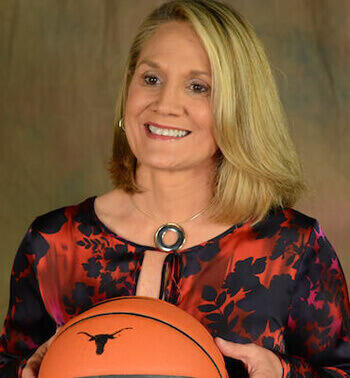 COACH KAREN ASTON
(Woman's Basketball – University of Texas)
Qualities of Successful People — Coach Aston will touch on a number of vital characteristics that she has found, within her wide experience, as critical to succeeding, even in the most demanding of endeavors.
Karen S. Aston is the fourth head women's basketball coach of the University of Texas at Austin, taking the position in 2012.
Coach Aston's basketball coaching career began in 1988 at Vilonia High School in Arkansas, as head girls' basketball coach. It didn't take long for Coach Aston to demonstrate her ability to lead and succeed. In the 1992-93 basketball season, she received recognition as the Arkansas Basketball Coach of the Year after leading Vilonia to a 36-1 record and a Class 2A State Championship. In 1994, Coach Aston made the transition to collegiate coaching.
From 1994 to 1996, she served as an assistant coach at Baylor University in Waco. From 1996 to 1998, she served as an assistant coach at the University of North Texas in Denton.
From 1998 to 2006 at the University of Texas at Austin, Aston served as an assistant coach, and later associate head coach, to Naismith Basketball Hall of Fame coach Jody Conradt. Coach Aston was instrumental in the Longhorns' trip to the 2003 NCAA Final Four and a pair of Sweet 16 appearances in 2002 and 2004.
After departing Texas after the 2005-06 season and prior to returning in 2012, Coach Aston made additional coaching stops at Baylor, the University of North Carolina at Charlotte, and, once again, North Texas.
Now with six seasons under her charge, Coach Aston has revitalized Texas Women's Basketball, having led the program to five consecutive 20+ win seasons, and five consecutive NCAA tournament appearances, including an appearance in the fourth round ("Elite Eight") of the 2016 NCAA tournament, and three third round ("Sweet Sixteen") NCAA tournament appearances. Additionally, under Aston's leadership, Texas Women's Basketball celebrated its 1,000th win during the 2015-16 season.
Beyond coaching basketball, Ms. Aston currently serves as a board member with the Kay Yow Cancer Fund.