Reported by Bobby Brown
Greetings!  This is Bobby Brown your June 11, 2019 reporter.  Today is a magnificent day to be a Rotarian!  Seventy-five years ago great Americans were paying the price for our freedom.  Seventy-five years ago today, five days after D-Day, marked the Battle of Normandy.
Rotarians were well represented throughout the American forces; and Rotarians' clubs in Austria, Germany, Italy, Japan and Spain were temporarily disbanded during the war.  After the war the disbanded clubs rebuilt their clubs and countries.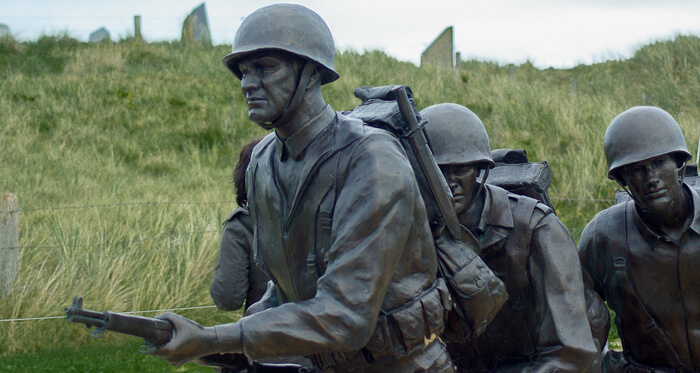 Our fantastic President Julia Benkoski called the meeting to order while wishing our greeter, Past President Gaines Bagby, "Happy Birthday".  Buck Cole led us in the pledges.  Sylvia Holmes gave a beautiful invocation.  Myron Burse introduced our many guests, including a visiting Rotarian from the Fiji Islands, who exchanged a banner with us, and Ksenia Usanova, a guest from Russia.
Jaime Phillips received her sixth Paul Harris Fellowship Award (PHF +5).  Way to go Jaime!
Following Jaime was a Blue Badge presentation to Dr. Russell Gana, whose sponsor is Jill Johnson.
Congratulations, Russell!
The Honorable Judge Lee Yeakel gave a wonderful swearing-in ceremony to our incoming 2019-2020
Officers, VP's, Board of Directors and Foundation Board of Trustees.  Sincere thanks to everyone for your
service above self!
Lenny Krasnow gave us the Membership Minute.  He opened with a quote from the beloved
comedian Groucho Marx, "I wouldn't join a club that has me as a member".  Lenny originally grew up in
Beaumont, Texas; and after receiving his Bachelor in Business from UT he became a National Bank Examiner in Dallas, Texas.  Four years after becoming a Bank Examiner he began to work for the Zales Jeweler Family's Foundation.  Lenny, still working for the Zales family, moved to Austin to be closer to his grandchildren.  We're glad you're here!
Tillery Castillo reminded us that it's not too late to register for the "Changing of the Guard Party" on Wednesday, June 26th from 6:30-9:30 pm at Matt's El Rancho.  Just forty dollars buys dinner and drinks, which are sponsored by KimoSabe Mezcal.  Now that sounds like a party!
The great Mary Reynolds reminded us that we still need volunteers for this Thursday (9-12) and for July 9, 10 and 11 (9-12) to help at Harris Elementary School with some student activities.
President Julie reminded us that there is one week left to pay your annual dues for 2019-2020. Also, this Friday is the deadline if you'd like to take advantage of the District's offer to match donations made to The Rotary Foundation.  She then asked Sylvia Holmes to share her recent experience with the Japanese Rotarians of Tokyo.
Sylvia said that members of the Tokyo Club gave her a gracious reception even though she was the only woman Rotarian to visit them and was wearing a colorful dress, to boot, in a sea of men in black suits.  Another point of interest about our Japanese Rotarian counterparts is that a female instructor leads them, during the meeting, for stretch exercises.  A "seventh inning stretch" always feels good!
Don't forget to RSVP for the Summer Soul-stice wine party hosted by Karen Collins.  Get ready for some good soul food at her house on June 21stfrom 6:30 – 9:30pm.
After several minutes of Fellowship, Michael Portman introduced our guest speaker and award winning
author (2-time Western Writers of America Spur Award winner and 2-time Texas Historical Commission T.R. Fehrenbach Book Award winner) James L. Haley.  Mr. Haley's most recent book is a non-fiction one titled The Handy Texas Answers Book although he's also the author of 20 other historical books and novels. To view some of his other titles visit his website here.
Very entertaining and inspirational, Mr. Haley passed around two precious old coins to remind us how important it is to remember the historical roots of mankind.  He also gave a beautiful perspective of the fact that all your beliefs are a result of your personal filters of history, both your own personal history and your knowledge of history.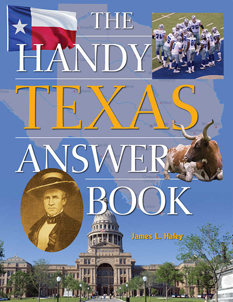 Mr. Haley is a 43-year Austin resident, and he reminded us of the early beginnings of Texas.  Texas was founded through the service above self of many well-known historic figures including: Moses Austin,
Stephen F. Austin, Sam Houston, and all the brave men and women of the Alamo.  These brave founding
fathers and mothers gave everything they had, in many ways, even the ultimate form:  giving their own life for the greater good of others.
Relaying statistics Mr. Haley observed that we still have a long way to go in the education of Americans and their reading levels.  He noted that being able to read and understand the history of mankind is paramount to the concept that history, and service above self, is the key to guiding one's moral compass.
The brave souls of the Alamo, representing many races and creeds and including Tennessean Davy Crockett (waving his rifle "Old Betsy" – although as it turns out all his rifles were named "Old Betsy"), decided that the ideas of freedom and a nation of free people were worth more than their own lives.  Now that's history we can never let be forgotten!
Bringing a great round of applause Mr. Haley closed with, "…don't lose touch with history; history is our basic understanding of life".
President Julie wrapped up the meeting by thanking our great newsletter sponsors Andy Swanson (Centric Commercial) and Bill Koen (Joe Koen & Son Jewelers).
Thought of the day: "If you want to live a happy life, tie it to a goal, not to people or things".

~Albert Einstein.
More About Our Speaker:
JAMES L. HALEY
Service Above Self in Texas History
Award-winning historian and novelist James L. Haley grew up in Fort Worth, Texas, and graduated summa cum laude from the University of Texas at Arlington with a B.A. in Government-Pre Law. He attended the UT Austin School of Law for two years before resigning to pursue a literary career.
He is the author of some twenty books, including ones on the history of Texas and the American West. Critically he is known as a practitioner of what they call "narrative history," presenting a subject that some might find dry or academic in a lively and compelling way.
Among several prizes he has won are the Western Writers of America Spur Award twice and the Texas Historical Commission T. R. Fehrenbach Book Award twice. He is a member of the Texas Institute of Letters and a Fellow of the Texas State Historical Society.
Most recently, he has become a novelist again, as the distinguished house of G. P. Putnam's Sons is publishing an important new naval adventure series, the third of which comes out next fall; and he is now working on the fourth.
On Tuesday, he'll speak on "Service Beyond Self: An Authentic Texan Ideal"; and he'll have copies of his latest nonfiction, The Handy Texas Answer Book, available for purchase.