Reported by Jack Wolfe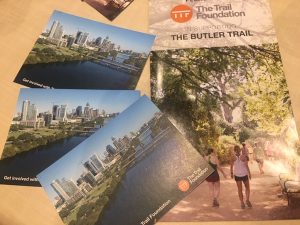 President Julie called the meeting to order.  Past President Bruce Golden led the pledges and Mike O'Krent gave our invocation of the day.  Pierre, one of the visiting Fulmore Middle School Interact Club students,led us in saying the Four Way Test.  Vera Keric greeted each member and guest as they arrived and Carl Noble introduced our guests and visitors.
Andy Swanson, Committee Chair for the Fulmore Interact Club, introduced the students as a group then had each of them introduce themselves individually.  What a great group of future Rotarians and leaders!
President Julie then presented Michael Abelson with a Paul Harris Fellow +4 award, Debbie Farnum with a Paul Harris Fellow +2 award and David Menchaca with a Paul Harris Fellow +2 award.  Congratulations!
James Gavin shared some of his history and stated the positive impact Rotary has had on his life during the Membership Minute.  He also commented on polio and Polio Plus, Third World Hunger, Books for Me and his time at ExxonMobil.
President Julie reminded us about the importance of checking in and using Meetup and Facebook.  She also told us about the Executive Committee meeting scheduled for today at 1:15; a MasterMind Group meeting on Thursday morning at Mimi's Cafe on Mopac; Past President Barry Curlee will lead another Rotary Brainstorming meeting next Tuesday; and this month's Wine Tasting Party will be hosted by Peter Pfeiffer on April 26th.  Please RSVP with Peter if you're planning to attend!
We held a vote to approve increasing our annual membership dues by $100 for 2019-2020, and it passed by a large margin (68 – 4).
After several minutes of Fellowship, Michael Portman introduced our speaker, Heidi Anderson.  Heidi is the Executive Director for The Trail Foundation (TTF) which, in conjunction with the City of Austin Parks and Recreation Department, manages the Ann and Roy Butler Hike and Bike trail around Lady Bird Lake.  This 10-mile trail is planned to fully connect with Austin's master trail system.
Heidi gave us a short history lesson, starting with a picture from 1860 showing a bridge across the Colorado River and subsequent pictures showing flooding until the Tom Miller Dam was built in 1940.
In the 1960's Longhorn Dam was completed, and this officially established Town Lake (now Lady Bird Lake) and made it a constant-level lake.  In 1971 the trail was begun as a result of the advent of a popular pastime, jogging.  TTF has been involved in many past and planned improvement projects along the trail including: poison ivy removal, tree trimming, memorial benches, restrooms, Drake Bridge (1st Street) enhancements, Holly Plant decommissioning improvements, a Seaholm Intake project, Longhorn Dam trail enlargements, ecological restoration and many other initiatives.
Heidi announced that 15 new projects are slated for future completion to coincide with TTF's anniversary – nine of them east of I-35, four west of I-35 and two trail-wide.  She also discussed plans to work with Austin's Parks and Recreation Department to take over the management of the city's 199-acre park and trails.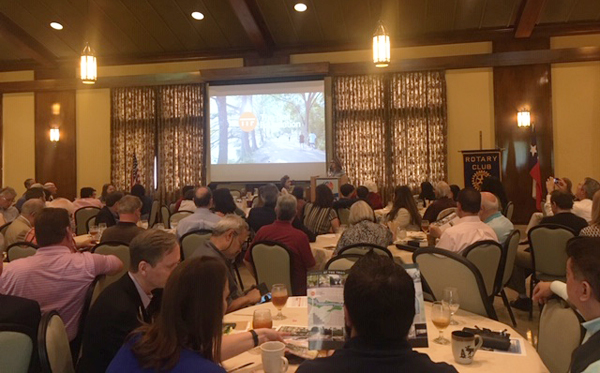 Next week we'll hear from Randy Clarke, the CEO of Capital Metro.  President Julie adjourned the meeting after thanking Scott Rider (Rider Construction Group) and Reggie Nisbett (Greater Texas Water Company) for supporting the newsletter and sharing a Thought of the Day from Steve Jobs.
More About Our Speaker: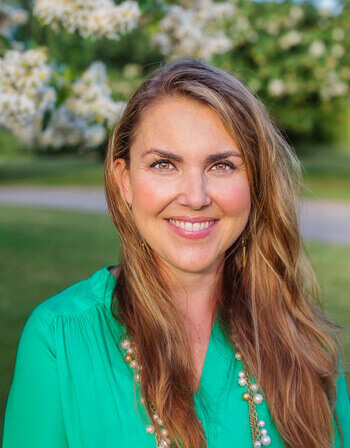 HEIDI ANDERSON
TTF—The Trail Foundation
Heidi Anderson is the executive director of The Trail Foundation, the non-profit organization that works to protect, enhance, and connect the Ann and Roy Butler Hike-and-Bike Trail for the benefit of all.
The Butler Trail is the 10-mile lush, urban pathway in the heart of Austin that serves as the hub of the city's 130-mile trail system, circling Lady Bird Lake and passing skyscrapers, neighborhoods, sports fields and cultural attractions. With more than 2.6 million visits annually, the Trail is one of Austin's most popular recreational attractions, and has an economic impact of $8.8 million annually.
As executive director of TTF, Heidi leads the Foundation's strategic vision and continued growth, including projects currently underway such as the Trail-wide ecological restoration, Holly Shores revitalization and enhancements to the East side of the Trail.
Her key duties include overseeing the administration, projects, programs and strategic plan of The Trail Foundation. Other responsibilities include fundraising, communications, marketing and community outreach.
During Heidi's tenure with The Trail Foundation, she has lead the efforts to establish criteria by which future projects are selected, announced the organization's ambitious 15 new projects in honor of its 15th anniversary in 2018, and created a Canopy Fund dedicated to financing the initial phases of each future project.
Heidi has also spearheaded the strategic modification of TTF's mission to include connectivity for the Butler Trail (in addition to protection and enhancement), unveiled TTF's completed $2.5 million Trail Bridge at Congress Avenue project, was appointed by the City as a member and key stakeholder of the Zilker Working Group, has helped lead the Seaholm Intake Facility joint revitalization project with the Austin Parks Foundation and City of Austin's Parks and Recreation Department, and been a featured guest speaker at various esteemed summits including the Texas Trails and Active Transportation Conference and the American Institute of Architects Austin Summer Conference.
She and her family regularly enjoy the Trail for its urban access to nature and connectivity to community. Heidi's commitment to the Trail lies in the belief that this treasured asset, within Austin's core, is at the heart of what makes our city great and our people healthy.
Heidi came to TTF with 24 years of experience in nonprofits, most recently focused on protecting green space and building additional trails for Central Texans. Prior to taking the reins of TTF, she served as director of development for Austin-based Hill Country Conservancy. She is the third leader in The Trail Foundation's nearly 16-year history.