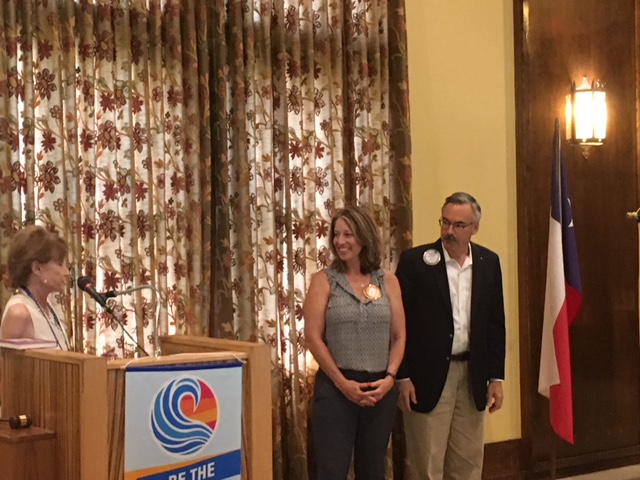 Reported by Brad Wiewel
President Julie Benkoski called the meeting to order at noon. Past President Mary Bird Bowman led the pledges and Jack Wolfe gave the invocation. Jeff Fazio led us in reciting the "FOUR WAY TEST." Our Greeter was "Crazy" Jim Innes and our Host was Carl Noble.
We had a new member introduction — Arval Headrick, sponsored by the mustachioed Tom Howard. Welcome, Arval! Sheryl Trembley followed when she was presented with her Blue Badge by her sponsor, the always effervescent Past President Gaines Bagby. Congratulations, Sheryl!
We also congratulated Michael Abelson (PHF +2), Myron Burse (PHF +1) and Todd Coleman (PHF +2) when President Julie recognized them for their contributions to The Rotary Foundation with their next Paul Harris Fellowship levels. Myron received his as a "gift" from an anonymous RCA member in honor of his continued leadership with the Hospitality Committee.
Announcements: Pints-for-Polio is set for October 18th at the new Fairmont Hotel's Roof Terrace. Past President Dick Brown reminded everyone of the wine tasting to be held at his home this Friday (Iberian wines!); and Richard Payton made an announcement about Camp Enterprise and the need for volunteers to help interview students at Bowie and Crockett High Schools. Ann Graham spoke about the impact that The Rotary Foundation has globally and reminded us about the District's matching program for members to receive their next Paul Harris Fellow levels.
President Julie gave a report on her recent Rotary trip to Panama and the poverty and promise that she observed. She was especially touched by the good works of Father Wally there.
Edis Oliver introduced our program speakers Harvey Ford and Arnold Garcia, both of whom are involved with Celebrate Texas!
Harvey and Arnold gave members insights into the history of Celebrate Texas and its focus on remembering and honoring Texas history including:
Texas Independence Day is March 2 and many Texans don't know that;
Their group was formed on March 2, 1998, through the efforts of local business man, Jay Johnson, and former State Senator Barrientos; people were initially suspicious of them;
When we tell people we are from Texas, they immediately know what we mean (unlike other states, like Wisconsin!);
Harvey and Arnold ended their presentation with the song Texas (When I Die)!
President Julie thanked Arnold and Harvey and presented a library book for their autograph, which will be donated in their honor to Fulmore Middle School. She also thanked our featured newsletter sponsor Reggie Nisbett of Greater Texas Water.
President Julie ended with a thought for the day, and the meeting was adjourned at 1:00pm.