President Bill called the meeting to order. Dee Anne Heath led the pledge to the United States flag and Past President Barry Curlee gave our invocation of the day. Josh Pruitt greeted each member and guest as they arrived and Caroline Valentine introduced our guests and visitors.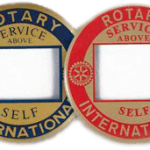 President Bill introduced Adam Straznicky (sponsored by Jennifer Olsen) as our newest Club member. Welcome, Adam! This was followed by Josue Limon, who traded in his Red Badge for a Blue one. Congratulations, Josue!
President Bill presented the following Rotarians with their Paul Harris Fellowship (PHF) Awards: Ann Marie Ellis (PHF +2) and Scott Rider (PHF +1). Thank you both for your continued generosity and support!
General Announcements:
Pecan Springs Elementary School needs a painter! If you know anyone who can paint a large eagle on their front office wall, please let Jon Yates or Mary Reynolds know.
Mike O'Krent gave a Camp Enterprise Committee announcement–The 38th Annual Camp Enterprise weekend is on January 24th-26th, 2020, and they need volunteers! There will be a general meeting next Tuesday, August 20th at 11AM in the Vestry Room (at St. David's), and if you're planning to volunteer or would like to learn more please attend this meeting.
Past President Ladd Pattillo is hosting a "Summer Wine Down" wine party THIS Friday (August 16) starting at 6:30. Please RSVP!
We had a busy Thank Goodness Basket this week and heard from: Peter Pfeiffer, Roger Williamson, Mark Johnson, Scott Rider, Sherry Workman, Brad Wiewel, Michael Portman and Sara Pantin.
After a few minutes of Fellowship time, Grant Sparks introduced our four speakers who were all part of our Club's Rotary Group Young Exchange program and were returning from Perth, Australia:Megan Cornwell, Lauren Kirkwood, Holly Prestage and McKayla Unks.

First to speak was Holly Prestage. She said she stayed with the Gatti family who had three children, and she felt at home with them because they were similar to her own family (in Austin) so she was able to relate to them. Holly noticed while she was in Australia that the cereals she loved as a child were named a little differently. Instead of Rice Krispies they were called Rice Bubbles and instead of Frosted Flakes they were called Frosties. She also noticed that vehicles in Australia, especially the pickup trucks, were much smaller than many driven in Texas. Holly shared several stories including: Visiting a small city where the theme of the town was cows, so there were funny cow statues all over the city; visiting Lucky Bay where the water was freezing, but the beach was beautiful; visiting Kalgoorlie, which is a gold mining town that reminded her of small towns in Texas; and going to Caversham Wildlife Park where she got to see a wombat!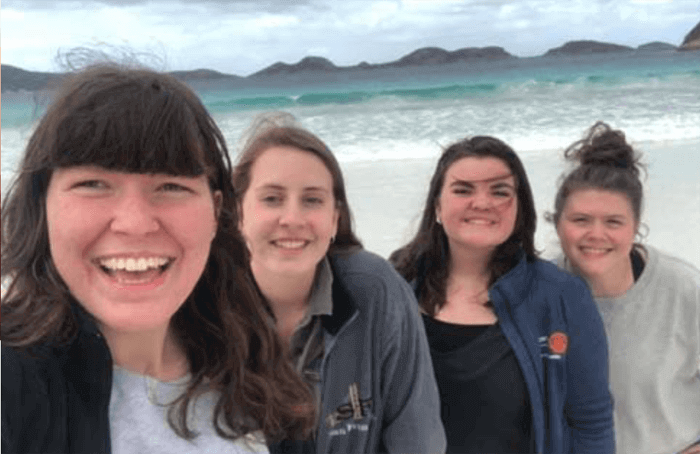 Next we heard from McKayla Unks who began by saying how great of an opportunity this had been for her – especially to be with this group of girls. Her host family was a perfect fit, too, and when she first arrived they had a welcome banner for her as well as a bag of local snacks and other welcoming gifts.
They only had one daughter, so she was able to do things that she normally couldn't with her larger family back home. McKayla said that she was able to visit further south in Australia when she got to take a vacation with her host family — she said it was like a double vacation! They stayed in the wine country, Busselton, and also met up Holly and her host family! McKayla was surprised to see so many signs posted on the beaches about how dangerous the water was, either because of large riptides or sharks, but how everyone swam in the water anyway. She said that one of the beaches they visited had just installed a new large shark net! Her favorite food was the Golden Gaytime and reported that if you ever visit Australia you're missing out if you don't have one, and another of her favorite treats was the Maxibon.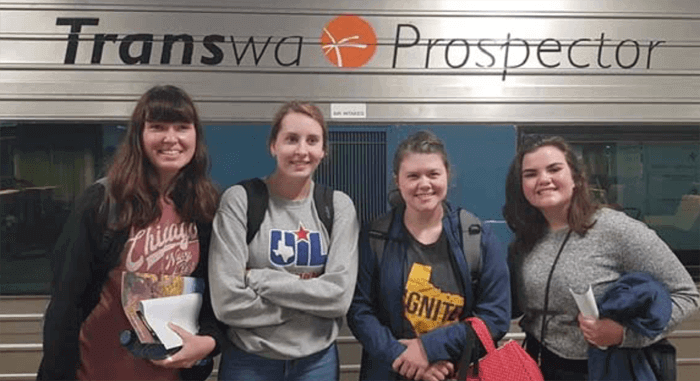 Third up was Megan Cornwall who said she stayed with the Ballochs family. While traveling they went to an underground mine, saw a water system for a prison, and visited a lighthouse! While with her host family they decided to go to the movies, which evidently was a very different experience because it's much more expensive and you bring your own drinks and snacks, and instead of a large theater there are just lounge chairs to sit in. She attended a net ball game, which is similar to basketball; and she also spent time in Kalgoorlie for a week, saw a super pit where there is gold mining, and also visited the beach, too.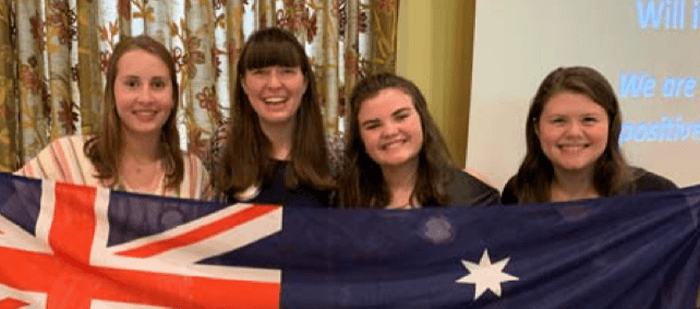 Finally, Lauren Kirkwood discussed how great a time she had with her host family. They visited Rottnest where she was able to take a plane ride around the island and stay for a tour. She also visited the Parliament House where they saw the differences in the systems of governments. All of the girls took part in a tree planting service project with a local Rotary Club, which also happened to be in the coldest part of West Australia. They thought that they'd be digging holes for the project but instead were able to use special tree planting tools that made the job fairly easy! After they finished they got to hold some baby sheep which were much heavier than they thought they'd be!
Next week we'll hear from Dewitt Peart, the President/CEO of the Downtown Austin Alliance. President Bill thanked Reggie Nisbett (Greater Texas Water Company) and Mike O'Krent (Life Stories Alive) for supporting our newsletter, and we stood to close the meeting with Adrian Moore leading us in saying the Four Way Test.
More About Our Speakers:
Our Rotary Club of Austin Group Youth Exchange (GYE) team has returned from their exchange program with the Rotary Club of Melville in Perth, Australia. The team of four junior high school girls: McKayla Unks, Lauren Kirkwood, Megan Cornwell, and Holly Prestage left for Perth on July 4th and returned August 3rd.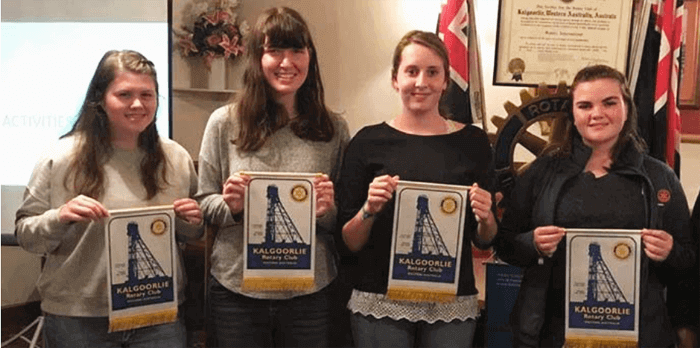 During their month-long exchange they not only presented to the Rotary Club of Melville but also met with the Rotary Clubs of Kalgoorlie and Esperance. Our GYE team was featured in the Kalgoorlie Newspaper, and Holly was interviewed on the radio. They even got to spend time with another GYE team from Canada.
In addition to attending All Saints College (high school), just some of the things they experienced were: the Western Australia Parliament, Fremantle Prison tunnels, Australian Football game, exploring giant caves and coast lines, the six hour Prospector train ride, the outback, Super Pit coal mine and very unique Australian animals.
Our GYE team will be hosting the Perth GYE team students who they stayed with during their visit to Central Texas in December-January.