Meeting held on May 10th, 2016, Recorded by John Braun

President Elect Dale called the 10 May meeting to order. Maddie Kadas led the pledges and Mavi Chapa gave the invocation. Arnold Garcia led us in saying The Four Way Test. Arnold also greeted each member and guest as they arrived and Rich Fikani introduced the guests and visitors.
We welcomed Griffon Ramsey as our newest member. Her sponsor is Allison Allen.
Tillery Castillo gave a final reminder about the Rotary Spring Picnic coming up on Sunday, May 15th at Pease Park. Russell Gallahan reminded the Red Badgers that today was the last in the series of Red Badge classes for this Rotary year. Richard Payton will be presenting information on our Club database (DaCdb) as well as touching on Rotary International's website and social media.
Jim Bryce gave a Global Awareness Update about Rotary and the Vatican City. We learned that the Pope is an Honorary Rotarian. Initial Paul Harris Fellowships were awarded to Michael Abelson, David Doran, Kenton Heinze and Judson Moore. Congratulations, gentlemen! After Fellowship, Michael Abelson introduced our speaker, Dr. George Martin, President of St Edward's University.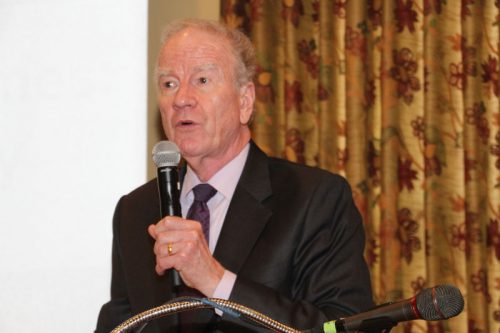 Dr. Martin gave the Club a quick review of the changes that have taken place at St Edward's since he arrived 17 years ago. Overall enrollment has doubled and the freshman class size has also doubled. There are now 3600+ undergraduate students from all over the world.
St Edward's is a Catholic University founded in 1885. It has a 14:1 student to teacher ratio and prides itself on the quality of education it delivers to its diverse student body. St Edward's has partnership agreements with 21 different universities around the world that allow St Edward's student to study abroad for the same cost as studying in Austin. In the class of 2015 over 66% of the students studied abroad.
The University is currently completing a $375 million construction program for 21 new buildings on campus and also completing a $100 million capital campaign. St Edward's is ranked number 13 in Best in the West Universities by US News and World Report.
Our next speaker is Rebecca Powers, founder of Impact Austin.
President Elect Dale adjourned the meeting.