Meeting held on March 22nd, 2016, Recorded by Past President John Braun
President Elect Dale Lowe called the 22 March meeting to order. Barry Curlee led the pledges and Don Tompkins gave the invocation. Karen Collins led us in saying The Four Way Test. Daryl Benkendorfer greeted each member and guest as they arrived and Steve Stearns introduced the guests and visitors.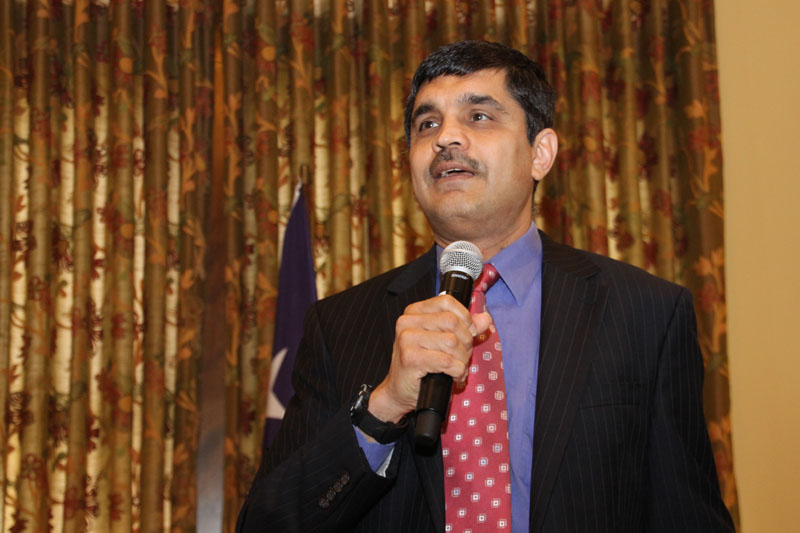 Andrew Mondi and Jordan Price were welcomed as new members, followed by Pauline Gubbels, who received her Blue Badge.
Bill Davies was in the Member Spotlight.
Russell Gallahan gave an update on the Mentoring Classes offered once each month for new members to better acquaint them with all the committees and projects of the RCA, although any member is encouraged to attend if they'd like to learn more about the Club.
Mary Reynolds reported on the Strikes for Tikes bowling party benefiting Sammy's House. Please let her know if you'd like to represent the Club and bowl (for free) on Thursday, March 31st.
Ellen Hunt and Jonathan Webb gave an update on the Iraqi Children's Foundation and the grant funds we provided them with several months ago.
Michael Portman led the Thank Goodness Basket. We heard from Michael himself, Bill Baker, Ellen Hunt, Ronney Reynolds, Rick Ravel, Don Grillo (Ed. Note: Welcome back, Don…we've missed you!) and Pam Bratton.
Ann Graham introduced our speaker, Dr. Chandra Bhat, Director of the Center for Transportation Research at the University of Texas at Austin.
Dr. Bhat talked about the future implications of driverless cars. Austin is one of seven US cities that are finalist for a test location for a driverless car program. Dr. Bhat believes it is not a question of if we will have driverless cars, but when. He believes they will be operational in ten years.
There are questions of technology, infrastructure and driver behavior to be addressed as the driverless car becomes reality. He believes that this system will bring greater safety and more productive vehicle use. But there will be unintended consequences as well.
Driverless cars may increase urban sprawl, energy use and vehicle size. They may also reduce the amount of urban parking space needed since the vehicles will be in use more. There is a significant issue of decreased individual liberty and the question of mixing driverless cars with regular drivers because the vehicle population will take years to completely change to a driverless system.
Our next speaker is Past President Gaines Bagby talking about Cars, Bars and Cigars de Cuba.
President Elect Dale adjourned the meeting.