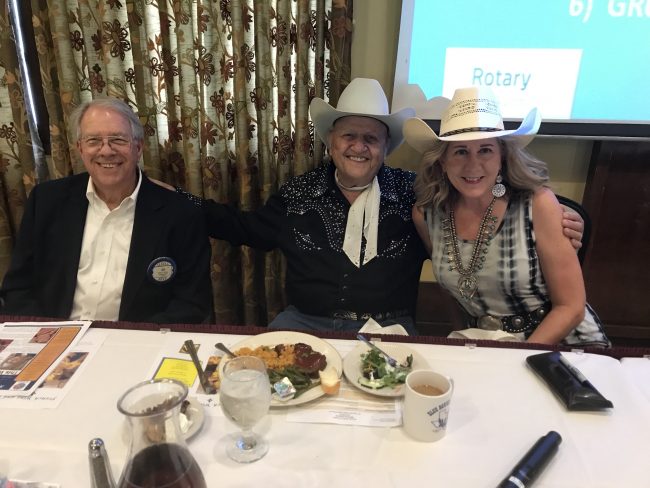 Reported by Girish Altekar
Ben Stafford Rogers sang and played his guitar for us before lunch started — it was quite a treat!
President Julia called the meeting to order. Jim Gdula led the pledges, Past President Sherry Workman gave our Invocation of the day, and Buck Cole led us in saying the Four Way Test. Charles Doty greeted each member and guest as they arrived and Carl Noble introduced our many guests and visitors.
Ken King traded his Red Badge for a Blue one. Congratulations, Ken!
Charles Doty invited us to his house for the next wine gathering (although there will be beer, too, if you're not a wine drinker) coming up on Friday, August 24th.
Mary Reynolds followed Charles soliciting participation in mentoring at Fulmore Middle School and/or reading books to the kids at Pecan Springs Elementary. If you're interested in either volunteer opportunity, please contact her to let her know!
President Julia made the weekly announcements, including reminding us of the anonymous donor at the District providing matching contributions to The Rotary Foundation, if your donation is between $250-$500. This means you can get your next Paul Harris Fellowship at half-price! Please contact Jennifer, in the Rotary Office, if you're interested in participating in this offer.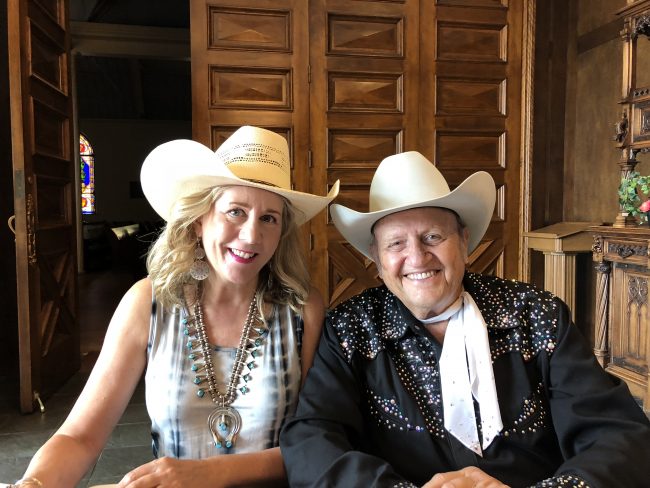 After Fellowship time Edis Oliver introduced our speakers, Donna Marie Miller and James White, who shared insight into how a small, old honky-tonk turned into a nationally, and even internationally, recognized place.
Donna Marie Miller is the author of The Broken Spoke: Austin's Legendary Honky-Tonk. She and James White, the owner of "the Spoke", took us through a journey over the past few decades for this world famous honky-tonk bar. Mr. White described how he originally built the place himself (no blueprints, just heart and soul) and how he grew it to be such an iconic Austin institution. He recalled going to sleep thinking about it and waking up still thinking about it.
From early on he worked to get national musical figures to come play at "the Spoke", Bob Willis being the first. From then on to this day musicians like Dolly Parton, Willie Nelson, George Strait, Garth Brooks and numerous other names we all recognized, have played the venue.
When Austin raised the drinking age, they had to adapt by changing strategy. From boxing on Tuesdays (no upper cuts allowed since you might poke a hole in the ceiling) to other variations on different themes, experimentation continues to this day as the Broken Spoke continues to be as relevant to Austinites now as it was in 1965.
President Julia thanked Reggie Nisbett with the Greater Texas Water Company, one of our newsletter advertiser sponsors, before ending the meeting with a Thought for the Day.
Next week's speaker will be Jon Yates with the Boy Scouts of America, Capitol Area Council.