Meeting held on February 16, 2016, Recorded by John Braun.
President Harold called the February 16th meeting to order. Mark Kapner led the pledges and Past District Governor Jack Mayo gave the invocation. Julie Benkoski led us in saying The Four Way Test. Wendy Jack greeted each member and guest as they arrived and Bill Davies introduced the guests and visitors.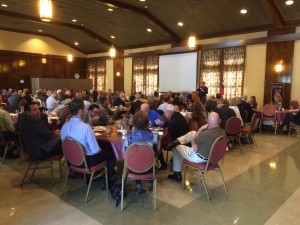 President Harold introduced three of our newest members: Lillian Aaron (sponsored by President Harold), Steve Stearns (sponsored by Liz Ingersoll) and Richard Tagle (sponsored by Jack Mayo). Welcome Lillian, Steve and Richard!
Jim Bryce gave a Rotary Global Awareness Update about the People's Republic of China.
Mary Reynolds reported on two opportunities to help BookSpring. March 5th is a book packaging day which is designed to be a family event. Also, the end of the Read-a-Thon requires help closing out this year's competition. Work dates are February 16, 17, 18 and 22. Sign up for both projects on line.
Elvin Pool gave an update on new Mentoring Classes offered once each month for new members to better acquaint them with all the committees and projects of the RCA. Although these are planned for Red Badge members, any member is welcome to attend!
Michael Portman handled the Thank Goodness Basket, and we heard from the following Rotarians: Michael, himself; Bill Baker; Laraine Lasdon; Bruce Golden; Allison Allen; Mark Johnson; Ann Graham; Patti Riley-Brown; and Michele Heyman.
Ann Graham introduced our speaker, Christopher Kennedy with Leadership Austin.
Mr. Kennedy gave a brief history of Leadership Austin. The program started in 1979 and engages business, non-profit, and elected leaders in the Austin metro area. The program is designed to help provide community leaders with skills to lead, an understanding of the issues facing the community and a strong network for the Austin area.
The demographics of Austin are changing rapidly and the face of the community is getting older. Austin is the fastest growing metro area in the United States for the age 55-64 age group and is the third fastest growing area for the 65+ age group.
Leadership Austin promotes greater community involvement in order to better meet the challenges of the future.
Next week's speaker will be the winning team from Camp Enterprise.