Recorded by Phil Thoden
President Dale Lowe called the meeting to order. Don Bledsoe led the pledges and Jack Nash gave our invocation of the day. Thomas Graham led us in saying The Four Way Test. Andy Swanson served as greeter and Myron Burse introduced our guests and visitors. President Dale exchanged Andy Swanson's Red Badge for a Blue Badge. Congratulations Andy!
Andrew Mondi invited everyone to the Rotary Summer Wine Tasting scheduled for this Friday, August 26, at his home.
President Dale made several announcements:
Don't forget to use Facebook and Meetup to sign up for our weekly meeting;
North Austin Breakfast Cluster Meeting is 7am, August 25, at Waterloo Ice House;
September will be membership month so be thinking about potential Rotarians;
There is now a pdf version of the new member application on our Club website.
Michael Portman reminded us about the Paul Harris Fellowship opportunity available for only $333 to potential first time Fellows. He also kicked off the Thank Goodness Basket with gratitude for a weekend spent with children and grandchildren. Sherry Workman thanked Bill Koen for his excellent work on her jewelry; Rick Ravel shared stories about his recent trip to Oregon; Edis Oliver enjoyed a recent cruise to Europe; Don Busby reminded us about opportunities to advertise in the Rotary Reminder; Steve Stearns was glad to have his daughter in attendance today; and, last but not least, Gaines Bagby was thankful that his son passed the 2nd of 4 CPA exams.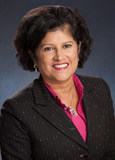 David Doran introduced our speaker, Christann Vasquez who serves as the President of the Dell Seton Medical Center at the University of Texas, the new Austin teaching hospital scheduled to open in 2017. She is also the new president of University Medical Center Brackenridge and was named president of Seton Shoal Creek Hospital in 2015. She is responsible for opening the new academic medical center that has been built in the heart of Austin near the Frank Erwin Center. Christann said that the new medical school is more than just a building, but a way to transform delivery of health care to patients. The school officially opens this Fall with 50 students chosen from among 5,000 applicants. Prior to this, Austin was the only major city in Texas without a medical school. She shared with us various photos of the buildings under construction alongside renderings of what the final structure and finished rooms will look like. Many questions were asked about this exciting new addition to Austin.