Reported by Andy Swanson
President Julie called the meeting to order and led us in reciting our Club Vision Statement.  Larry Rieber led the pledges, and Past President Barry Curlee gave our invocation.  Lois Ann Stanton led us in saying the Four Way Test.  Vlad Bahrencu (and President Elect Bill Davies) greeted each member and guest as they arrived, and Maxie DeBlanc introduced our guests and visitors.
We started things off as President Julie introduced three new members:  Alison Michels (sponsored by Jill Johnson), Russell Gana (also sponsored by Jill Johnson) and Gary Gerstenhaber (sponsored by Bruce Golden).  Welcome to Alison, Russell and Gary!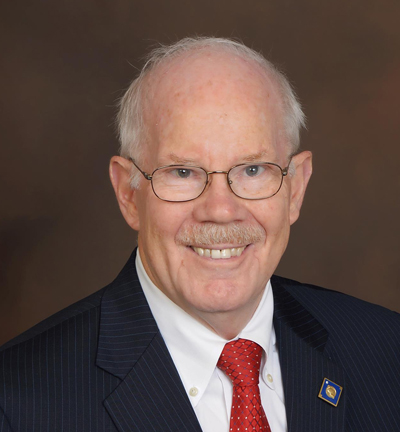 District Governor Jerry Chapman was in attendance today and spoke about Polio Plus and the positive impact this program has had to reduce polio in the world; however, he noted there is still work to be done.  He also presented an award to Past President Sara Pantin for her support of Polio Plus and the $21,000 that she helped our Club raise last year that will allow 100,000 children to be inoculated.
Tillery Castillo announced our upcoming Spring Membership Social Event that will be held at President Julie and Harold Benkoski's home on May 18 from 4-6 p.m.  Please plan to attend, and if you know someone who might be interested in Rotary invite them, too!  This will be a casual and family-friendly event.
Don Grillo provided today's Membership Minute and quickly noted that he "has never done anything in 60 seconds…"  Don was born in New York City and eventually got into the tech industry where he was a very successful IT executive.  After he retired from the tech industry, he became involved with the Children's Methodist Hospital in San Antonio.  He wanted more opportunities to assist people and Rotary was his choice!
Sharon Golden gave a Global Awareness Update and reported the good news that our Club's application was approved earlier this year by Rotary International for a Global Grant to support a large children's literacy project in Bangalore, India.  This program will help improve the reading skills for 25,000 children!  Sharon also thanked Ellen Hunt for inviting her to be on the Global Service Avenue's team!  Great work for a great cause!
After some brief, general announcements, President Julie discussed results from our recent online survey and also addressed the Club regarding the increasing costs of our weekly meetings at St. David's.  She noted that we have extensively searched but have been unable to find another location to hold our meetings that was competitive.  She provided two potential solutions to get our input on.  The first would be to increase our annual dues by $100/year to a total of $760.  The second would be to decrease the number of our weekly lunch meetings per month by one to a total of three (for most months).  After asking for a show of hands to informally vote for each option, the vast majority of members voted to increase dues.  An official vote by Club members to formally approve increasing our annual dues will be held at one of our weekly lunch meetings later this month.
Our own Mike Capps, the voice of the Round Rock Express, provided a fantastic intro for our speaker, Chris Almendarez, the President of the Round Rock Express.  Chris has had a fascinating life.  He grew up in Humble, Texas, and has been involved with baseball since he was a young kid.  Nolan Ryan was his childhood idol.
Chis played baseball at the University of Houston and shared a story about his first meeting with Nolan Ryan during a weekend baseball series between TCU and Houston.  Chris, who played second base, was asked to take over the pitching duties during the second game of the series with his team down 14-2.  He got them out of the inning on 17 pitches, and Houston came back to win the game 17-16!  The next day during warm-ups, he had the chance to meet his idol.  Ryan, who was a volunteer coach for TCU at the time, asked how Chris felt after pitching the day before.  When Chris told him that the entire right side of his body was extremely stiff and sore, Ryan told him to "take two Advil and keep doing what you are doing".
Chris shared numerous stories with us including the first date he had with his future wife, Jana, and his father tragically dying later that same night in a motorcycle accident.  He also told us about his two sons, Chase and Luke, who are also involved with baseball (both excellent baseball players) – Chase works for the Round Rock Express and Luke plays baseball at the University of Houston!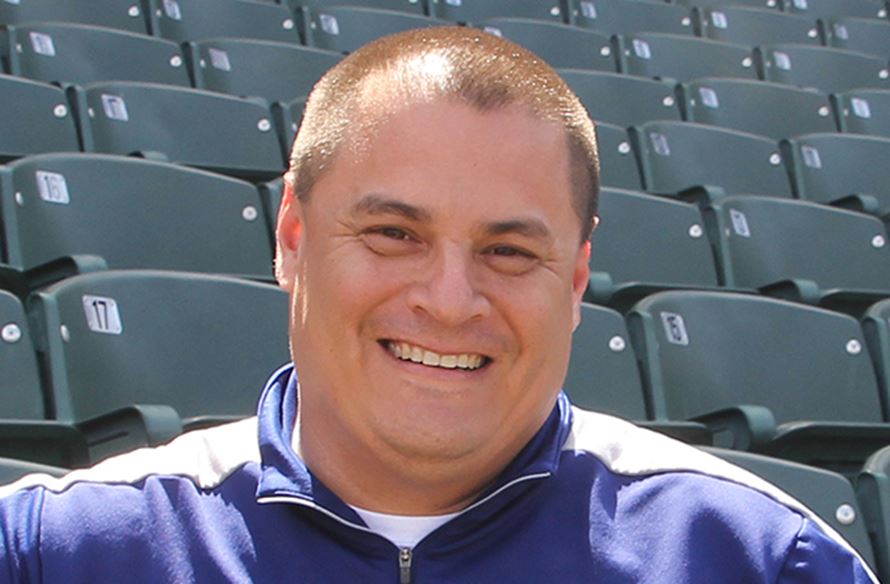 Chris then shared another tragic story of Jana being diagnosed with glioblastoma and how they dealt with it as a family.  He said they fought the disease together through faith and family.  They received a tremendous amount of support from the Ryan family and the Express organization.  Jana passed away in 2016, regrettably only 11 months after being diagnosed with the disease, but her legacy lives on as they showed others how to deal with adversity.  On the day that Jana passed away, Reid Ryan called Chris to tell him that they were going to build an orphanage in Zambia in her honor, and it's called "Jana's House".
Chris believes in three things:  Everything is possible with God; Everything happens for a reason; and Dreams come true.  He says the Round Rock Express is bigger than baseball — It is family and community; the Ryan family is an amazing group of people; Ticket sales are going well; and they are very happy to be reunited with the Houston Astros organization!  Chris simply tells his employees to "make 'em smile" and hopes to see you smiling at the ballpark this season!
Next Tuesday we'll hear from Dr. David Altounian from the Bill Munday School of Business at St. Edward's University.  President Julie closed with thanks to Andy Swanson (Centric Commercial) and Bill Koen (Joe Koen & Son Jewelers) for their support of our newsletter, and right before she adjourned she shared the Thought of the Day from Norman Vincent Peale.
More About Our Speaker: