Reported by Russell Gallahan
President Julie called the final meeting of 2018-2019 to order. Jessica Diaz led the pledges and Josue Limon gave our invocation of the day. Jackie Sinex led us in saying the Four Way Test. Heather Toolin cheerfully greeted each member and guest as they arrived and Carl Noble introduced our guests and visitors.
President Julie introduced Attila Horvath (sponsored by Vlad Bahrencu) and Healy Marroy (sponsored by Michael Portman) as our newest Club members. Welcome, Attila and Healy!
Chris Ray took the stage to offer the Membership Minute. He told us about his family's move from Virginia to Austin in the late 1980s when IBM relocated his father's work. Demonstrating that the apple does not fall far from the tree, Chris has created and operated several technology businesses in Austin throughout his career. Chris is married, and he and his wife are raising two dogs.
Pauline Gubbels thanked all of the Rotary Reminder newsletter reporters who have served over the past year. She expressed her gratitude to: Andy Swanson, Ann Marie Ellis, Bobby Brown, Brad Wiewel, Dick Brown, Girish Altekar, Jack Wolfe, Margaret Curtis, Phil Thoden, Ray Kang, Reggie Nisbett, Russell Gallahan and Sam Greer.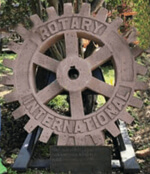 Past President Sherry Workman gave us a mini-history lesson and told us the story of the forty-year odyssey of the massive stone Rotary wheel that was featured on page 9 of last week's Rotary Reminder. She told us it was originally donated to the Rotary Club of Austin by our sister-club in Mexico; and after more than four decades in storage, the sculpture was finally installed at the YMBL Austin Sunshine Camps in Zilker Park by Rider Construction Group. It will soon be accompanied by a bronze plaque commemorating its history.
Announcements included:
President Julie thanked Pauline Gubbels for stepping in as VP of Club Service after the tragic death of Nadir Abdeladim earlier this year.
She gave thanks to Karen Collins for hosting the wine tasting last Friday and to Andy Swanson for coordinating the Habitat for Humanity project.
She reminded members to check-in via Facebook and MeetUp.com and informed them about the North Austin Breakfast Cluster meeting at Waterloo Ice House (on Burnet Road) on 6/27 at 7AM.
She informed members that Carole Mullen is recovering at home but is still very ill; and Stan Bullardis back in attendance!
Bill Baker is also recuperating at home and would like to attend our meetings if someone could drive him. Please speak to Jennifer if you can help!
Mike O' Krent MC'd today's Changing of the Guard program and provided some witty (and some not-so- witty) anecdotes about Julie's Presidential year. He was joined at the podium by Past President Sara Pantin,Past President Ronney Reynolds and Past President Don Ray George who all shared tributes to our wonderful outgoing President and presented her with some end-of-year gifts. President Julie's husband,Harold, also gave a few remarks on her behalf.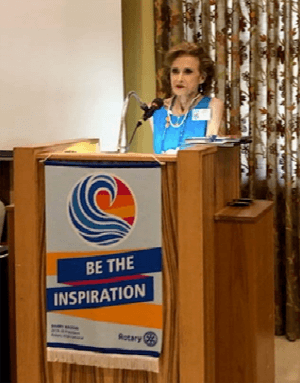 President Julie closed by thanking the club officers for their work throughout the year and summarized some of the year's projects and accomplishments of the Club. She emphasized her appreciation for Mary Reynolds and the members' participation in the blood drive.
Next week will be President Elect Bill Davies first official time at the podium; and we'll be joined by Lt. Colonel Amanda Harrington of the U.S. Army Futures Command.
A special thank you to Judge Lee Yeakel — for installing and swearing in our 2019-2020 Rotary Club of Austin officers (back on June 18th)! The new leadership of the Rotary Club of Austin pledged "To do their very best and then…. just a little bit more."
2019-2020 Officers:
Bill Davies, President
Richard Payton, President Elect
Jessica Diaz, Treasurer
Josue Limon, The Rotary Foundation (TRF) Chair Vlad Bahrencu, Sergeant-at-Arms
2019-2020 Vice Presidents:
Ann Graham, Club Service VP
Mary Reynolds, Community Service VP Girish Altekar, Global Service VP
Rich Fikani, Membership Service VP Jim Gdula, Vocational Service VP
2019-2020 Board of Directors:
Vlad Bahrencu (2019-2021) Harold Benkoski (2019-2020) Andy Swanson (2019-2020) Jon Yates (2019-2021)
2019-2020 Austin Rotary Club Foundation (ARCF) Board of Trustees:
Michele Heyman (2018-2021) Harold Ingersoll (2019-2021) Vicky Lindsey (2019-2022) Jack Nash (2019-2022)
Sara Pantin (2017-2020) Richard Payton (2017-2020) Michael Portman (2017-2020) Julianne Shively (2018-2021) Jack Wolfe (2019-2022)
President Julie's Final Thought of the Day:
"You must be the change you wish to see in the world." ~~ Mahatma Gandhi