Meeting held on February 23, 2016, Recorded by Allison Allen
President Harold called the February 23rd meeting to order. Bill Davies led the pledges and Brad Wiewel gave the invocation. Carl Noble led us in saying The Four Way Test. Pauline Gubbels greeted each member and guest as they arrived and Rich Fikani introduced the guests and visitors.
President Harold introduced four of our newest members: Michael Eden (sponsor Jim Furman), Kim Gdula (sponsor Jim Gdula), Maddie Kadas (sponsor Paul Liebman) and Barbara Van Dyke (sponsor Don Busby). Welcome y'all!
Rich Fikani received his Blue Badge. Congratulations, Rich! Elvin Pool reminded us about today's and future RCA mentoring classes.
President Harold encouraged everyone to check in on Facebook and to JOIN MeetUp.com. The RCA North Breakfast Cluster group is meeting this Thursday the 25th at Waterloo Ice House on Burnet. This Friday Early Act First Knight will have a knighting ceremony at Pecan Springs and Dawson elementary schools. The monthly Global Service Meeting will meet outside the library after next week's regular meeting. Julianne Shively had back surgery and is recuperating. Spring cluster meetings will be March 15 so be sure to sign up for a location. Our RCA Foundation dinner will be on Thursday March 3 at the Westwood Country Club.
Michael Portman managed our Thank Goodness Basket: Adam Borger announced the birth of his first daughter, Milly. Past President Todd Smith was visiting us from his new club in Montecito CA. Jim Bryce described some Camp Enterprise hijinks that involved short sheeting, upper vs. lower bunks and Don Ray George. Frank Carmichael was thankful for a new job involving broadening the George W. Bush freeway up in Dallas. Visitor Griffon Ramsey, chainsaw artiste, thanked us for allowing her to visit the club.
Jeanne Arnold, Camp Enterprise Chair, introduced our program and the winning Camp Enterprise team and next generation of Austin entrepreneurs. Jeanne also had some particular thanks for: Jerry Ray for sponsoring the cost of the CE t-shirts, Michael Abelson for providing team assessments that taught the campers valuable insights in the importance of teamwork, Discount Electronics for the donated use of all the computers and laptops, The Print Shoppe for printing the CE materials at cost, the Hoover Valley Volunteer Fire Dept. for providing EMS service the whole weekend, Past President Gaines Bagby for arranging a tour of the Capital Factory, all Rotarians who helped pull this together, and to Leslie Bagby and Tillery Castillo who will be the co-chairs for next year. Thanks to all!!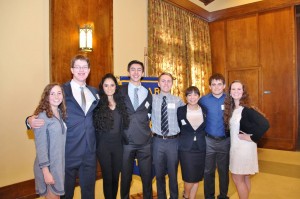 A very sharp team of budding CE entrepreneurs introduced us to their new product, the Bracelert. The Bracelert is a fashionable alert bracelet that provides immediate support to the wearer in case of a dangerous situation. They are planning on marketing it primarily to college students since a sexual assault takes place every 2 minutes. The key feature of this product is that upon its button being pushed 3 times it sends the wearer's GPS location to the local police and to their family. There is an app on your phone that allows you to manage and add contacts and sync your device. Of their market survey, 80% of respondents said they would purchase the product. The team estimates the size of their market is 10 million and they plan to target the largest universities first. At $59.95, their pricing beats the competitors. The Bracelerts can be personalized with school specific designs.
Many thanks to all who made Camp Enterprise happen this year. And thanks to Jeanne for taking on a big job on short notice!
Next week, our meeting will be run by Fulmore's Interact Club.