Reported by Jacqueline Sinex
President Bill Davies called the meeting to order. Jaime Phillips led the pledge to the United States flag and Mike O'Krent shared the invocation of the day. Healy Marroy and Pauline Gubbels greeted everyone arriving, and Caroline Valentine introduced the guests and visitors to the crowd.
During announcements, we learned a variety of updates. Ann Graham requested help from members with meeting photography and PR efforts for the Club. Jacqueline Sinex announced an effort to collect a list of any interested members who would like to form business-focused connections within the Club. Any interested member can Click Here To Email Jackie to be included on any business event news. Sylvia Holmes announced plans to enjoy a sunset cruise with fellow members, and sent a poll to the crowd for a preferred cruise date (either August 28 or September 18).
Myron Burse gave our Membership Minute. He highlighted his organization Clean Investments, which came to fruition after his experience in a similar program that has rewarded him with 27 years of sobriety. Clean Investments works frequently with the criminal justice system in Austin. Myron is also an accomplished martial artist and is a 9th degree black belt, and he has a unique perspective on martial arts and shares that experience with others! The Club is lucky to have Myron as a member!
President Bill continued with announcements, citing that Bill Baker is now out of the hospital but lacks good transportation to attend the meetings. He lives in Hutto and would enjoy a visit and assistance to attend meetings from any other members. Also, August's "Summer Wine Down" wine tasting event is approaching on August 16th and will be hosted by Past President Ladd Pattillo. Click Here To RSVP
Josue Limon presented the Thank Goodness Basket. Past President Ronney Reynolds informed us that his wife (and active member) Mary Reynolds was recently injured while tripping over a fuel line. She separated her shoulder and is now recovering. He joked that she is "keeping up with Past President Barry Curlee". Michael Portman returned recently from Malawi in Africa, where he participated in building water wells and other activities during a life-changing mission trip with other St. David's parishners and leaders. He was humbled by the experience and extreme poverty he saw and is very thankful for what we have in the U.S. Lois Ann Stanton is thankful for the work of MD Anderson, and that football season is right around the corner. Vlad Bahrencu thanked the volunteers who coordinated Saturday's Back-to-School Splash event at Helping Hand Home, and his son's recent milestone in potty training.
After some quality Fellowship, members enjoyed a presentation from featured speaker Brian Manley, Austin Police Department Chief.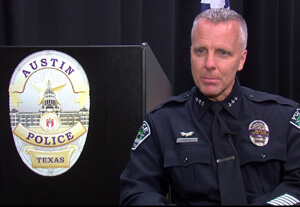 Tarby Bryant introduced Chief Manley, who is a graduate from the University of Texas at Austin in Finance, and after further education he eventually joined the Austin Police Department in 1990. After hard work with the department for many years, he became Chief in 2018 (following the departure of Art Acevedo to Houston).
Chief Manley shared that he currently works among over 2,700 sworn officers and staff in the Austin Police Department. There is a lot going on in the city of Austin right now, including popular topics like homelessness. Overall violent crime is down 8% this year to-date, however, crime rates vary by area, so the impact is different depending on where you live and work in the city. Historically, one of the biggest deterrents of violent crime is more police presence, but this does not completely eliminate it.
Partnering with the community is essential to what police do. Police Chief Brian Manley said, "We must do our best with the resources we have." He shared that data analytics are also important; but behind each data point, there is a person.
Chief Manley continued speaking on topics that interested members. On the topic of homelessness he said that some changes have resulted from recent decisions made by city leaders. Many current homeless individuals are suffering from mental health issues or addiction, or both. While housing is a very important need, it doesn't solve things for every person; some individuals need greater care and supervision, and some don't want to be housed. Several key decisions were made by the city in June for three ordinances, and these law changes have impacted the way officers are able to approach homeless individuals if they receive a complaint. He encourages anyone in the community to "participate in the conversation".
There was some discussion about a program in San Antonio that addresses homelessness called Haven for Hope. Police Chief Brian Manley stated that the City Council is aware of that program and have visited it; but one of the biggest challenges with similar facilities is "where", as not everyone will agree on a location and many citizens do not want such a facility near them (NIMBY). Another challenge is whether the homeless population is willing to stay there and if it will be effective for them.
There was also discussion about a recent news story related to increased suicides among officers in the U.S. Chief Manley recognized that a career as a police office is a stressful and challenging one, and that each day officers have to witness "the worst that society has to offer" and then go back to work the next day and move onto other tasks. Fortunately, as time has progressed, the perspective on mental health has evolved and it is no longer viewed as a stigma or weakness. In the Austin Police Department, the #1 priority is the health and wellness of officers.
Other questions from audience members included: Identifying hate crimes; further on data/metrics and interpreting them; recent news of buckets of water being thrown on officers; current police force size and vacancies; and as a final topic, the Chief acknowledged that officers often bring the stresses of their job home to their families which can lead to higher numbers of divorce. APD offers services including counseling and peer support programs to help both the officers and their families.
President Bill thanked Andy Swanson (Centric Commercial) and Corey Wilson (Kidd Roofing) for supporting our newsletter, and we stood to close the meeting with a reciting of the Four Way Test.
More About Our Speaker: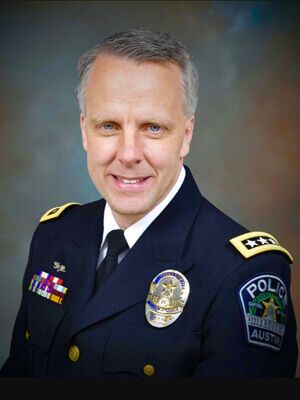 BRIAN MANLEY
Austin Police Chief
Brian Manley joined the Austin Police Department in 1990 and has served as Chief of Police since June 2018. Chief Manley leads a department of over 2,500 sworn law enforcement and support personnel, with an annual budget of over $400 million, who carry out law enforcement operations within the City of Austin, as well as the Austin- Bergstrom International Airport, city parks and lakes and municipal courts.
In his 28 years with the APD, Chief Manley has served in and led many areas of the Department, including: Patrol, Narcotics, Child Abuse, Homicide, Highway Enforcement, Internal Affairs, Special Operations & Homeland Security and Recruiting & Training.
Additionally, he led a delegation of APD officers during the 2009 Presidential Inauguration in Washington DC, commanded a group of Special Response Team officers in a deployment to Houston, TX in the wake of Hurricane Ike, and attended the Senior Counterterrorism Officials Seminar in Israel.
Having grown up in Austin, Chief Manley's strong connections within the community have aided him in building and maintaining relationships across all of Austin's diverse neighborhoods and with the many stakeholder and activist groups.
Chief Manley believes in actively engaging the community to set priorities, sustain open lines of communication and maintain transparency.
Chief Manley has reengineered the Department to better align operations with his commitment to community policing and improving the quality of life for all in Austin. He implemented the Department's first de-escalation policy, written in partnership with a local activist group, and put the entire department through Fair and Impartial Policing training.
Chief Manley has volunteered the Department to undergo an equity assessment by the City's Equity Office later this year. He also attended the Undoing Racism training in advance of implementing a department wide program. Current projects include a redesign of the Compstat process to better focus on community priorities and implementation of the Department's first Community Policing policy.
Chief Manley graduated from Albert Sydney Johnston High School and then attended the University of Texas at Austin, earning his Bachelor of Business Administration degree in Finance in 1992. He earned his Master of Science in Organizational Leadership and Ethics (MSOLE) degree from St. Edward's University in Austin in 2004 and was recognized as the St. Edward's University 2004 Outstanding MSOLE Graduate of the Year.
Chief Manley went on to serve as an adjunct professor in the St. Edward's University Criminal Justice program and was awarded the School of Behavioral and Social Sciences 2012 Outstanding Adjunct Award. Chief Manley is a graduate of the Police Executive Research Forum's Senior Management Institute for Police and the Major Cities Chiefs Association Police Executive Leadership Institute.