Reported by Reggie Nisbett
Spring has suddenly and punishingly turned to summer with the temperature and humidity headed to triple digits, as the members began to gather for today's meeting. It wasn't long before the room was full of sunshine and fellowship as well over 100 members and guests came to their feet at the sound of the Rotary bell, that President Julie struck at noon.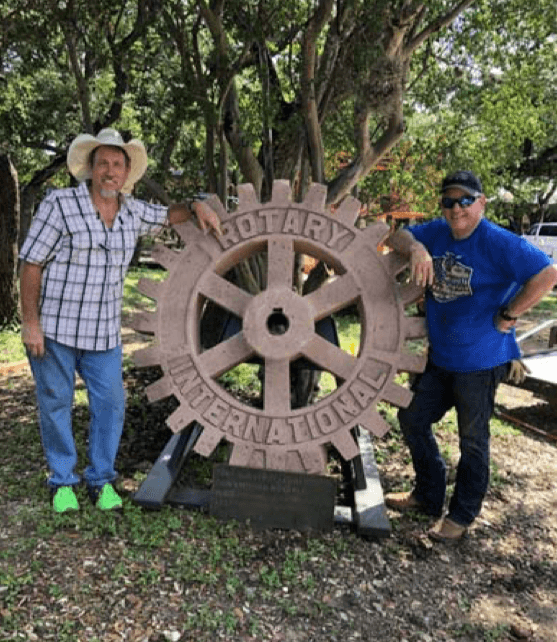 We started with the pledges and they were led by Alison Michels. The invocation was offered by Russell Gana, and the Four Way Test was led by Jessica Diaz. The greeter was not at the top of the stairs today, instead Bill Davies headed us off at the front door and directed us to the check-in table down the ground floor hall where the lively and friendly Karen Collins was there as greeter. Myron Burse did his usual good job introducing our guests and visitors of which there were thirteen today.
Congratulations were extended to two new members today. Sharon Francia and Brandi McDaniel are the newest members of the Austin Rotary Club! Be sure to check out the bios for these new members, and welcome them when you see them! The Membership Minute was presented by Bill Davies. Bill told us about a banking career across Texas cities and of his membership in Rotary at each city. Ten years ago, it really "happened for him" as to the value of Rotary's work when he visited the Helping Hand Home for Children. An inspiring member story of embracing Rotary goals. Thanks President Elect Bill!
Mary Reynolds stood in for Karen Collins and reminded us of Karen's wine party coming up on Friday; and Tillery Castillo encouraged us to come out for the Changing of the Guard party next Wednesday at Matt's El Rancho. It's a wonderfully air-conditioned space, and they'll have great tequila too!
Today we had time for the Thank Goodness Basket and Ann Graham raised the basket high. We heard from Rick Ravel about his recent top 13 US Ranking for his Industry. That's a lotta shoe leather! Scott Rider's daughter has a job! Congratulations, I know the feeling. Speaking of feelings, a well- deserved expression of respect and appreciation for Dr. Pat Beckham's 48.5 years of practice that will be over at the end of this month when he retires. Make your appointments now if you need any work done!
WE HAD 10 FULL MINUTES OF FELLOWSHIP TODAY!!! You should have been there.
After a couple of bangs on the bell we came back to order for our program. Today we enjoyed a complete and detailed explanation of the world of Soccer. So much I did not know. Tarby Bryant introduced Andy Loughnane, the President of Austin FC (Soccer). He is a wealth of data and information, not only of his own team, but the soccer world in general.
The soon-to-open Austin FC Stadium will be at the Domain with 20,000+ seats, 25 suites (boxes), and 3 fancy clubs. There will be 17 matches + plus several concerts a year. Season ticket deposits just occurred with 32,000 reserved in 24 hours. Looks like Soccer's here to stay!
This is just another example of the presentations we enjoy each week. You really must be here to be able to soak it all up! See you next week!
Some of the interesting soccer facts that I didn't know:
There are 26 other major league teams now and could be as many as 30 in just a couple of years.
Austin is the largest market in North America without a major league sports franchise.
Soccer is on the rise in attendance and viewership.
Percentage of fan base that is young and Hispanic is high compared to other sports.
Soccer games last two hours. Set your watch by it.
There are 18 soccer-only stadiums in North America; and 20-25,000 is the ideal seating size.
More About Our Speaker: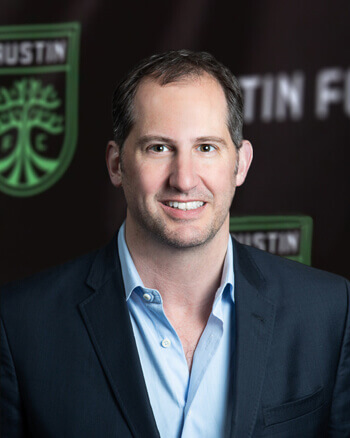 ANDY LOUGHNANE
Austin FC (Soccer)
Andy Loughnane (pronounced: "LOCK-nane") oversees all aspects of Austin FC's business operations including: community and supporter engagement; ticketing; sponsorships; marketing and communications; digital and social platforms; content creation; media distribution; merchandise; food and beverage; and stadium operations.
Prior to his appointment as president of Austin FC, Loughnane's sports and entertainment background encompassed leadership and sales roles with four major league sports franchises across three major leagues: MLS, NBA and NHL.
Before joining MLS' Columbus Crew SC as president of business operations in 2014, Loughnane oversaw all sponsorship and media sales initiatives as VP of corporate partnerships for the NBA's Detroit Pistons.
Loughnane previously helped launch a major league franchise as a member of the NHL's Columbus Blue Jackets' inaugural front office staff. Prior to his role with the Blue Jackets, Loughnane worked for the NHL's Detroit Red Wings during the franchise's back-to-back Stanley Cup runs in 1996-1997 and 1997-1998 as a sponsorship sales executive.
Andy will be giving an update on the team and on the progress of the new North Austin MLS stadium near The Domain.