Meeting held March 1st, 2016, Recorded by Phil Thoden
President Harold Ingersoll called the meeting to order. Interact student Jorge Rangel led the pledges and Patrick Van Haren gave our invocation of the day. Interact President Brooklyn Bissell led us in saying The Four Way Test. Daryl Benkendorfer greeted each member and guest as they arrived and Carl Noble introduced the guests and visitors.
Past President Sherry Workman introduced students and faculty from the Fulmore Middle School Interact Club.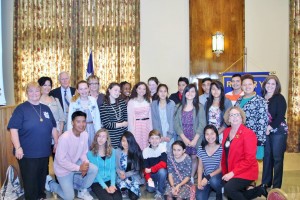 President Harold then introduced the following new members: Arnold Garcia sponsored by Past President Ronney Reynolds, Hannah Walker sponsored by Mary Reynolds, and Pia Wilson sponsored by Michele Heyman. Welcome all! Also, Judson Moore was presented with a Blue Badge. Congratulations Judson!
Mary Reynolds requested volunteers to help at BookSpring on Saturday, March 5th to help stamp and package books for distribution. Jim Bryce gave a Global Awareness Update about Rotary activities in Vietnam. While there are no clubs in that country, you can still find plenty of Rotary activity there including the distribution of thousands of durable soccer balls from Interact Clubs. Harvey Ford reminded everyone about Texas Independence Day on March 2. Adam Borger then urged members to sign up in our Club social media accounts on Facebook, Twitter, Instagram and MeetUp.
President Harold made several announcements:
Thirsty Thursday is this week at the Driskill Bar
The Global Service Avenue Committee meets after today's meeting
The Austin Rotary Club Foundation Board elections will be held on March 8
Cluster meetings will be held on March 15
Details about a possible parking alternative, LUXE.COM, will be shared at an upcoming meeting
Darrick Eugene introduced our speaker, Lisa Bush, who is the Principal of Fulmore Middle School. Lisa noted that Fulmore was founded in 1886 and has been open at its current location since 1911. The 1,000 students there range from highly gifted to special needs, but they all have a place and curriculum at the school. She shared videos the Interact Club made to educate fellow students about the service opportunities available through Rotary.
A few of the Interact Club members addressed the Club to share their experiences with service projects such as Stop Hunger Now. After several questions from the audience were answered by Lisa and the students, Mary Reynolds noted that our Club's new challenge is to restart the Interact Club at Travis High School.
Next week's speaker is nuclear energy expert, Dr. Dale Klein.