Meeting held on March 29th, 2016, Recorded by Past President John Braun
President Harold called the 29 March meeting to order. Arnold Garcia led the pledges and Don Busby gave the invocation. Karen Collins led us in saying The Four Way Test. Joe Breeland greeted each member and guest as they arrived and Andy Swanson introduced the guests and visitors.
District Governor Melinda Osburn addressed the Club and presented Major Donor Awards to Julianne Shively and Dale Lowe. Congratulations, Julianne and Dale! Thank you for your continued support of Rotary International. She also recognized Don Ray George for the prestigious Rotary Foundation Distinguished Service Award for his work with the Group Study Exchange. She encouraged everyone to attend the District Assembly at the end of June and especially District Governor Elect (and Past President) Bruce Golden's Induction Luncheon on Sunday, June 26.
Russell Gallahan gave an update on the Mentoring Classes offered each month for new members to better acquaint them with all the committees and projects of the Rotary Club of Austin. There are now 27 Red Badge members in the Club.
Jim Bryce gave a Global Awareness Update.
Mary Reynolds reported on the Strikes for Tikes bowling party scheduled for this Thursday and stated she needed a couple of additional volunteers to help bowl.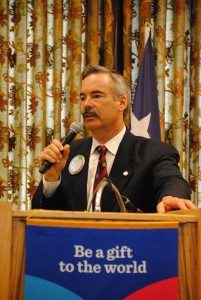 After Fellowship time, Past President Don Ray George introduced our speaker, Past President Gaines Bagby speaking on a church mission trip to Cuba in November, 2015. Thirteen members of Covenant Presbyterian Church made a trip to Cuba to deliver medical supplies to a sister church in a suburb of Havana.
Cuba has a population of 11,000,000 of which 2,000,000 are Christian. From 1958 until 1991 religious worship was prohibited and severely punished. The government has only allowed religious worship since 1991. The country is extremely poor due to communist rule since 1958. Almost all jobs are with the government with monthly salaries averaging $25-30. Gaines reported that the cigars and the rum were very good.
Our next speaker is Mark Madrid with the Greater Austin Hispanic Chamber of Commerce.
President Harold adjourned the meeting.