Reported by Ann Marie Ellis
President Sara Pantin called the meeting to order at noon. Arnold Garcia led the pledges and Amy
Jackson gave the invocation. Jill Johnson led us in reciting the "FOUR-WAY TEST."Josue Limon was
our greeter at the top of the stairs and Tom Anderson, our host.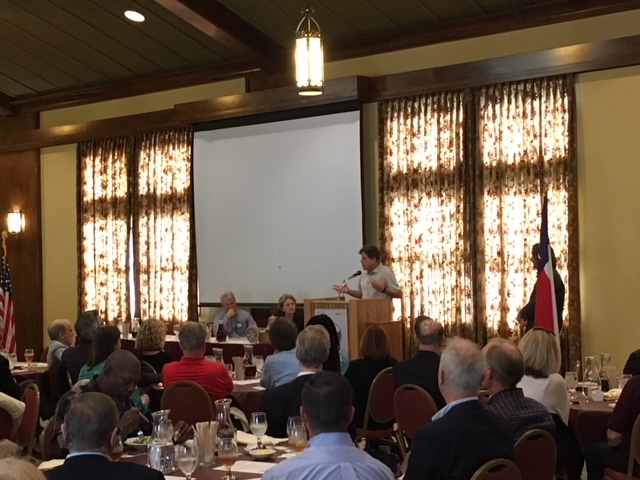 We welcomed our newest member, Natalie Moore, who was sponsored by Darrick Eugene.
President Sara then presented Don Tompkins with a Paul Harris Fellow +8 pin, with three rubies.
Congratulations, Don!
Announcements: Past President Dick Brown reminded members about the Rotary Wine Party at his
home on December 1st. Rich Fikani reminded members about the "Annual Ask" campaign and requested
members to complete an "Annual Ask" pledge card. Margaret Curtis requested volunteers for the "Books
for Me" program at Pecan Springs Elementary School on December 11-15th to help students during the day as they select books to take home. Chris Soileau announced a Holiday Happy Hour (with hors d'oeuvres) on Thursday December 7th at 6 pm in the Renaissance Hotel-Arboretum bar area.
President Sara reminded members that our Club elections for President Elect Elect for 2019-2020 and
Board of Directors for 2018-2020 will be held in two weeks. Members must be present to vote!
Mary Reynolds asked that members please give to the Annual Ask Campaign because this is how we fund
all the great activities that the Rotary Club of Austin provides for our community and the world. EarlyAct
FirstKnight (EAFK) ceremonies were to be held the following day (Wednesday) at Hart Elementary at
8:30 AM and at Dawson Elementary at 1:30 PM. Pecan Springs' EAFK Service Club has adopted the Walnut Hill Nursing Home for Christmas for their service project, and we are helping the children collect the following gift items for residents: adult socks, small lap blankets, coloring books, markers, word search books, chap stick, lotion and shampoo. Please bring these items to the next Rotary meeting. Children will be delivering these items to residents on December 14th.
Todd Coleman introduced our speakers, Ted Keyser and Chris Janawicz from the Helping Hand
Home for Children. The Home's chief administrator and its clinical director are very appreciative of the help that the Rotary Club of Austin has given to the Home over the past almost 100 years. They said, "We're starting childhood for children, with gratitude to Rotary."
Their presentation gave members an overview of the work of the Home, the oldest continuously operating residential childcare agency in Travis County, which provides a safe haven for children healing from physical, emotional and sexual abuse, neglect or abandonment. The Home, which currently has a waiting list of 100 children, has an exceptional success record: They return 85% of the children to a family (compared to a nation-wide success rate of 50%).
President Sara thanked our guest speakers and our featured sponsors for the day, Don Busby (Commerce Business Advisors) and Teresa Finney (Texas Capitol Group.) She announced that our speaker for the December 5th meeting will be Christopher Calicott presenting about Blockchain. President Sara ended the meeting with a Pearl of Wisdom: When you hit rock bottom, the only way to go is up. She noted that this certainly describes the Helping Hand Home for Children. The meeting was adjourned at 1 pm.