Meeting held on May 17th, 2016, Recorded by Jacqueline Sinex

The meeting was called to order by President Harold Ingersoll. Jim Gdula led pledges, Past President Pete Meeker gave the invocation and Andrew Mondi led the reciting of the Four Way Test. Adrianne Marks and Carl Noble greeted and introduced guests.
Bill Koen was featured for the Member Spotlight. He shared his success in one of the oldest businesses in Austin as a 4th generation jeweler, after his great grandfather migrated from Russia and eventually settled in Austin. He is a 3rd generation Rotarian and continues serving with various projects and committees.
During announcements, President Harold read a heartfelt letter from a military soldier who recently enjoyed an Operation Vacation weekend. Paul Harris Fellow recognitions were awarded to: Rich Fikani, Jim Innes, Vicky Lindsey, Rachel Ruiz and Brad Winegar. Congratulations! Michael Portman led the Thank Goodness Basket when several members (Ann Graham, Allison Allen, Pat Beckham, Joe Breeland and Barry Curlee) shared about their upcoming trips, family members and college affiliations.
After Fellowship, Don Ray George introduced the featured speaker Rebecca Powers of Impact Austin. He described her as "a powerful young lady". She is a former IBM sales professional and moved to Austin in 1994. She is also a former member of the Rotary Club of Austin.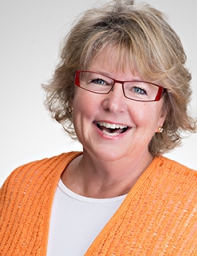 Rebecca began her journey with Impact Austin in 2003, shortly after her beloved brother passed away. She was inspired by a magazine article in People that described a woman who pooled together 123 donors to provide a sizeable donation to a local organization in their area. Rebecca decided she could put her sales skills from IBM and her relationship building experience to work in order to reach a goal of 100 women contributing $1000 each toward a purpose.
Her efforts were successful, achieving a group of 126 women and a contribution of $126,000, in the first grant to Life Works. Impact Austin expanded to 5 core focus areas, with $100,000 minimum grant sizes and a 500 member goal. To-date it has funded 56 grants with $5,533,000.00 and continues growing membership efforts.
The organization also spawned "Girls Giving Grants" through the interest of Rebecca's daughter inspiring girls and young women to engage in philanthropy.
Rebecca cited her influence and success largely connected to Rotary. She shared that during her first visit to Rotary Club of Austin, she met Jerry Ray and developed a lasting friendship with him as well as a business partnership that allows her to provide "bowling pin" awards to achievers in her organization, in memory of her brother.
She also thanked other members who were assets to Impact Austin: Nancy Oelklaus, Ronney Reynolds, Pam Bratton and Sara Pantin.
Rebecca closed with a quote from author Lynne Twist, "When you let go of trying to get more of what you don't really need, you free up oceans of energy to make a difference with what you have. When you make a difference with what you have, it expands."