Meeting held on April 19th, 2016, Recorded by Phil Thoden

President Harold Ingersoll called the meeting to order. Katie Jackson led the pledges and Ann Graham gave our invocation of the day. Don Busby led us in saying The Four Way Test. Nadir Abdeladim greeted each member and guest as they arrived and Andy Swanson introduced the guests and visitors.
President Harold exchanged Joe Breeland's Red Badge for a Blue Badge. Congratulations Joe! Phil Thoden then reminded the Club there is a need for Rotary Reporter volunteers as well as a Rotary Reporter Coordinator. Contact Phil or Jennifer to help! Tillery Castillo announced an upcoming Spring Picnic Event to be held on Sunday, May 15 from 2:00-4:00 at Pease Park. Also, she is seeking a Co-Chair for the Social Committee.
Past District Governor Ed Mullen and former State Representative Dianne Delisi presented the Department of the Army Commander's Award for Public Service to Mary Reynolds who coordinates Operation Vacation every month for a Ft. Hood non-commissioned officer and his/her family to enjoy a fun, stress free weekend in Austin. Congratulations and thank you Mary!
Jack Wolfe was in the Member Spotlight. Noting he has been a member of the Rotary Club of Austin for six years, Jack said he enjoys the fellowship, speakers and philanthropic opportunities, especially the Helping Hand Home for Children. President Harold then reminded everyone to "check in" for each meeting via Facebook and Meetup.
Michael Portman led a very popular Thank Goodness Basket, and contributors included: Michael Portman, Rick Ravel, Michele Heyman, Roger Williamson, Jim Bushnell, Jim Furman, Susan Hawkins Sager, Amber Scarborough (from the South Austin Rotary Club), Bill Baker and Ed Mullen.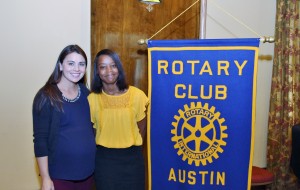 John Braziel then led the RCA Scholarship Awards Program. This year 30 high school students applied and 14 scholarships were awarded. Recipients were: Ranisha Dokes (Reagan), Ashley Hannah (LASA), Sarah Hollis (Anderson), Maria Jaramillo (Ann Richards), David Padilla-Arenivar (Del Valle), Linh Pham (Anderson), Loi Quach (Akins), Brenda Saucedo (Bowie), Gabrielle Silva (Akins), Alexandra Streeter (Austin), Carlos Vasquez (Manor), Corin Wagen (LASA), Tanner Wright (Hyde Park) and Kelly Martinez Chinchilla (Eastside).
We also gave out our first graduate level scholarship to Madeline Baird. Madeline was unable to join us because of her current work in the Dominican Republic, but she plans to apply her scholarship to enroll in the MSc Control of Infectious Diseases at the London School of Hygiene and Tropical Medicine in England. Congratulations students, and thank you to the Scholarship Committee for all your work!
Next week's speaker is Marc Miller who will talk about the use of social media and LinkedIn.