Reported by Bobby Brown
Aloha!  Bobby Brown here, February's Rotary Reminder reporter.  Today is February 19, 2019, and it is a fantastic day to be a Rotarian!  It may not seem like Aloha weather, yet the lakes are full, and there's no drought.  We may not see the Super Snow Moon (biggest and brightest moon of the year) tonight, but happily we don't have to deal with the heavy snow and white-out conditions happening up north.
Today is also National Iwo Jima Day.  February 19, 1945, brave soldiers entered one of the most brutal battles of WWII.  God bless all who sacrifice to keep the world free, peaceful and safe!  That is what Rotarians do!
Our super President Julie Benkoski called the meeting to order.  Past President Meade Bauer led the pledges, Reggie Nisbett gave a beautiful invocation and Jim Bryce led us in the Four-Way Test.  Our Host, Myron Burse, introduced our wonderful guests; Harold Benkoski was our Greeter; James Gavin was the official photographer; and last, but not least, Josue Limon was our Sergeant-at-Arms.
Jim Bryce sponsored our newest member who we are so pleased to have in our ranks, Jack Lubben.  Jack is a native Texan, veteran, long time-time attorney and as President Julie said, "A man with a heart for service".  Welcome aboard Jack!
Ann Marie Ellis gave an absolutely incredible Membership Minute.  Think of an adventurous woman all alone in 1985 at the base camp of Mount Kilimanjaro with a mountain to climb deciding at that moment "Someday I'm going to join Rotary".  Now that's a documentary I would want to see!  Ann Marie even brought a purse with her that was made and given to her by disabled men working through a Rotary-sponsored program during her Kilimanjaro Adventure.
After a long career at Texas State University working in various titles, including Dean, Ann Marie continues to work doing good deeds for Rotary including Rise Against Hunger (this Saturday from 8-1 at Tarrytown United Methodist Church).
Jon Yates reminded us to volunteer to read for the children of Pecan Springs Elementary School during the Books For Me Program on April 1-5, 2019.  Lives change for the good when you help children develop a love for reading!
See Also: Rotary Literacy Projects 
Mary Reynolds reported that we have two tables we need to fill at the BookSpring Luncheon on April 26, 2019, from 12-1:30 pm at the Renaissance Hotel.  So buy your tickets now and represent our Club!  Send your $150 checks to Jennifer Olsen, in the Rotary office.
President Julie thanked everyone who attended Jack Mayo's memorial service and funeral. She also announced that our annual Austin Rotary Club Foundation (ARCF) Celebration Dinner is March 7, from 6-8:30pm at Chez Zee.
Ann Graham led today's Thank Goodness Basket by thanking James Gavin for his tenure as photographer and reported that we need a new photographer volunteer for the upcoming year. Jack Wolfe thanked the Austin Classical Guitarist for putting on a show on March 2, at the Performing Arts Center.  Jack has free tickets if you're interested!  Ellen Hunt says that there are now two buses in Iraq that Rotarian donations have sponsored through the Iraqi Children Foundation.  These buses transport children to and from school safely.  The good works of Rotarians also help attorneys assist Iraqi children (1,200 children to-date) who are orphaned from the wars to be released from prison and get them placed into sponsorship.  God bless the innocent children and those trying to help do things we take for granted!  Michael Portman was thankful for a recent fishing trip in Louisiana that probably "hooked" his six year old grandson into a lifelong love for fishing.  Finally, Vlad Bahrencu was thankful for his extremely strong wife who almost passed away after giving birth to their twins.  Mrs. Bahrencu continues to give hope and inspiration to other mothers-to-be as she was featured on local television for her amazing survival journey and story.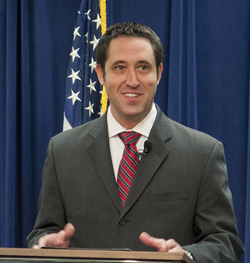 Edis Oliver introduced our speaker, Glenn Hager—Texas Comptroller.  Now this is where the story gets legendary!  Glenn comes from a long line of Texans.  Six generations of ranchers and farmers since 1846 from the Hockley, Texas area.
Mr. Hager has served in both the House and Senate of Texas.  He is now the comptroller of the tenth largest, I say again the tenth largest, economy in the world, the Texas economy.  As Glenn joked, Russia has nothing on Texas, our economy has bragging rights!  Not that Texas has ever been known to brag.  Mr. Hager is also an attorney and an Aggie to boot.  As Comptroller he is doing everything in his power to make Texas more efficient and prosperous with the state coffers; all the while making sure that his title as husband and father come first.
Now that sounds to me like a man who should run for President of the United States!  With 1,100 new folks in Texas every day and over a $109 billion dollar annual budget, it is going to take a mighty fine Texas Comptroller to keep things in order.  Thank goodness we have Glenn Hager, an honorary RCA Spokesman!
More About Our Speaker: