Meeting held on May 17th, 2016,
Recorded by Patrick Van Haren

The meeting was called to order by EAFK Student Service Club President Joey Sanchez. Joey and Edgar Rojas led the pledges, shared the thought for the day and led the reciting of the Four Way Test. Wendy Jack and Carl Noble greeted and introduced guests.
Elvin Pool made an announcement about our Club's Corporate Membership Program and presented the Corporate Membership Brochure. We then heard announcements from Mary Reynolds and President Harold Ingersoll.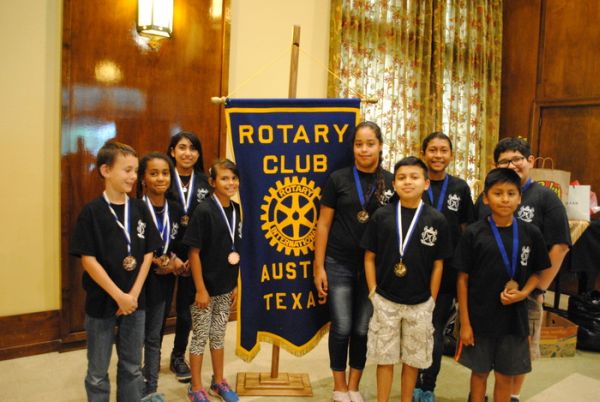 After Fellowship, Mary Reynolds introduced the Dawson Elementary School EarlyAct FirstKnight (EAFK) Student Service Club members. The faculty advisors, Ms. Berkley Stoltz and Mrs. Nora Zaisar, escorted 10 children from Dawson's 4th and 5th grade classes to the meeting. Mary provided a quick review of the EAFK program and its mission to build the following character traits in kids: Respect, Honesty, Discipline, Confidence, Responsibility, Tolerance, Perseverance, Compassion, Friendliness and Service.
Every six weeks, the school holds a knighting ceremony in which students are selected by their teachers as exemplary representatives of the character trait being studied during that period. Students receive a medallion in front of their peers and parents, while siblings are able to help the students receive their honors.
The Dawson Student Service Club chose the following service project programs for this year:
School – implementing and leading an AISD formatted recycling program;
Community – "Collins Hope" Swim safety program;
and International – Soles for Souls shoes distribution to people in need. Rick Ravel of Karavel Shoes agreed to take the shoes from the kids and get them shipped off.
The students discussed their School Service Project, which included general recycling efforts at the school as well as creating boxes for everyone to recycle their crayons and markers back to Crayola at the end of the school year. The kids answered questions about recycling activities and guided us on the best practices for recycling, including recycling former executive members.
Ms. Hannah Walker, a current Red Badge member and former EAFK Knight, explained the impact of EAFK at some of the regional schools and the beneficial effects that the program has made on school disciplinary references after implementing the EAFK program. Approximately 10-15,000 kids from within our Rotary district are involved in EAFK programs.
At the end of the meeting, the students were presented with a surprise Service Club medallion.