Reported by Jacqueline Sinex
President Dale Lowe called the meeting to order. Tom Howard led the group in the pledges, Mike O'Krent gave the invocation and James Gavin led the Four Way Test. Myron Burse and Pauline Gubbels greeted everyone as they arrived, and Carl Noble welcomed guests in the audience.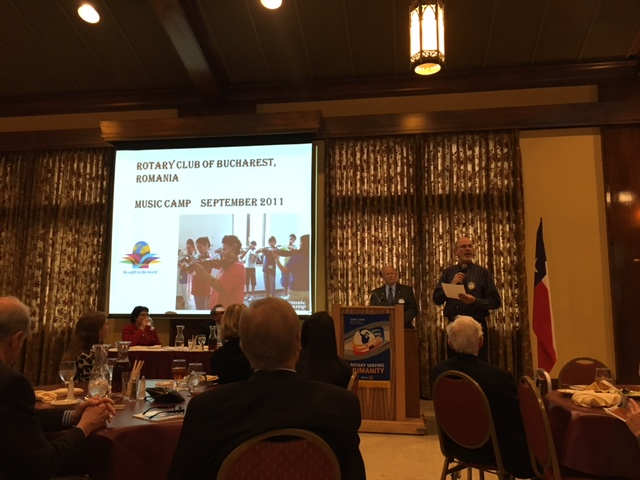 A special guest and former Rotarian Danny Daniller shared his experience as a member of Rotary in South Africa as well as Palo Alto, CA. He presented two club banners to President Lowe. In 1961, Danny was invited to Rotary in South Africa during an interesting political time. He served as President in 1970. In 1979, he migrated to the US and joined the Palo Alto club. He enjoys Rotary for the best fellowship and the good work members are doing. He also presented our club with a gift of one of his watercolor paintings.
Announcements continued, with a visit from Elf Betty and Elf Barry and Dancing Present Michael Portman, to remind members about the upcoming holiday party for Helping Hand Home on December 13 and our donated gifts that need wrapping.
Mark Kapner presented the Global Awareness Update. He shared information about Rotary in Bucharest, Romania. Rotary was established in Romania in 1929 but was later abolished by the King and not revived until 1992. Today, there are over 90 clubs in Romania including 6 in Bucharest. A children's music camp program is one of the efforts of the Rotary clubs there.
We then congratulated our newest Paul Harris Fellow recipients: Liz Ingersoll, Vera Keric, Adrianne Marks and Barbara Van Dyke. We also congratulated Jessy Ingersoll (Harold and Liz's daughter) for being a recipient as well.
After a break for fellowship, Michele Heyman introduced speaker "Doc" Rainey, from the Williamson County Symphony Orchestra and current chairman John Gordon.
Mr. Gordon first shared some comments, including that the orchestra currently has 95 members, all volunteers. They perform several concerts a year, including an annual concert at Ft. Hood for the soldiers. They have won more awards than any other community-based orchestra in the nation. Dr. Rainey is a "teacher of teachers", has played instruments himself, has been in the company of several premier symphonies in the country, and is an exceptional conductor. Mr. Gordon stated that the Williamson County Orchestra "brings people in".
Dr. Rainey commented that he felt right at home with our Rotary Club, with its generous and genuine attitude feeling much like his own community.
He began by polling the audience about who had once played an instrument in young life, but abandoned the effort after the formal education was over. Many raised their hands. Generally, people often play instruments early in life, graduate and then set it aside and "get busy" with other things. But when people grow older and have more time again, their interest in playing the instrument may resurface.
The orchestra was formed for this type of community, for musicians who want to perform. He shared stories about people who were simply grateful for the opportunity to play for an audience. One story was about a man living at a retirement community who contacted Dr. Rainey about his experience playing trombone in early life, but having not played in 40 years. He wanted an opportunity to audition and participate. Although his playing was "not good" at the time, he showed up to rehearsal and practiced with devoted effort. He expressed the joy he received from the experience of playing in an orchestra performance.
The orchestra program provides a sense of community, support and therapy for many people. Experiencing the arts is important to them. It also exposes the community to the arts, especially people who ordinarily would not have purchased a ticket to attend a symphony performance.
Members can find the schedule and venues for performances on the website at http://www.wilcosymphony.org/