Our Motto: Service Above Self
Members of the Rotary Club of Austin believe that being of service – to the Club, our community and throughout the world – is the best way to build successful businesses and deeply satisfying personal lives.  In the process, we have the opportunity to:
Develop lifelong friendships and strong networks by working with fellow Rotarians on local, national and global service projects.
Serve society by following high ethical standards as embodied in the 4-Way Test
Use our professional expertise and knowledge to make the world a better place
Advance international understanding, goodwill and peace by joining with other Rotarians in a global fellowship united in the ideal of service
We Have Fun!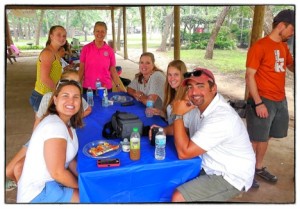 Rotarians aren't just all about service and meetings, we know how to have fun, too!  With an active calendar of monthly social and networking events, ranging from our Annual Family Picnic on Lake Austin to Wine Tastings, from After-Work Networking Happy Hours to Bowling Nites, to more celebratory occasions such as our festive Holiday Dinner, we have plenty of opportunities to get to know each other's families and partners in a fun, relaxed setting.
Meeting Time & Location
Tuesday at 11:45 AM
(Inside Ben Hur Shrine Temple)
7811 Rockwood Ln.
Austin, Texas
USA