Rotary began fighting polio over 35 years ago. Although our work has reduced the number of cases of the disease by 99 percent worldwide, new outbreaks and dangerous conditions make the total eradication of polio a constant challenge.
For example, in Côte d'Ivoire it's been over two years since the disease last surfaced. But with polio-endemic in nearby Nigeria, the possibility of a fresh outbreak looms over the country. The only way to keep the poliovirus at bay is to continue administering regular immunizations to all children under the age of five.
During National Immunization Days last year, 7.5 million children in Côte d'lvoire received two drops of oral polio vaccine, along with vitamin A supplements and de-worming tablets.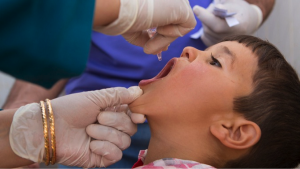 This accomplishment is underscored by our volunteers' willingness to put their lives at risk. Just last year, 20 polio vaccinators were killed in Pakistan.
"Polio eradication is not an option, it's an obligation," says Richmond-Ahoua, chair of Rotary's PolioPlus Committee in Côte d'lvoire. "When you consider what's been done in Côte d'lvoire, despite the many obstacles we've faced, you are deeply convinced that polio will soon be eradicated."

On a local level, learn what our Club is doing to raise funds for Polio Eradication.
Meeting Time & Location
Tuesday at 11:45 AM
(Inside Ben Hur Shrine Temple)
7811 Rockwood Ln.
Austin, Texas
USA
Connect with Rotary
Contact Information
Jennifer Olsen, Executive Director
phone: (512) 462-1333
Contact Us
www.Rotary-Austin.org