Reported by Phil Thoden
President Julia called the of the Rotary Club of Austin (RCA) to order precisely at noon.  After we recited our Vision Statement, Mary Reynolds led the pledges, Girish Altekar gave our invocation of the day, and Mary Reynolds came back up to lead us in saying the Four Way Test.  Caroline Valentine and her special guest (all the way from Russia) Ksenia Usanova greeted each member and guest as they arrived, and Myron Burse introduced our guests and visitors.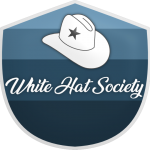 President Julie called up Past District Governor Ed Mullen who presented Past President Ronney Reynolds and Mary Reynolds with membership in the esteemed Rotary White Hat Society.  This distinction requires a donation to The Rotary Foundation of at least $5,000 in a single Rotary year, although Ronney and Mary have been much more generous than that.  Congratulations Ronney and Mary!
Andy Swanson then provided an update on a new Habitat for Humanity Service Project.  For those who would like to work on the project on a weekday, June 19th (Wednesday) is the date; and for those who would prefer a weekend, June 22nd (Saturday) is the date.  Space for volunteers is limited so please RSVP immediately to Andy.
Myron Burse came up to remind everyone about our next Wine Party scheduled for Friday, June 21st at the home of Karen Collins.
Mary Reynolds returned to the podium one more time to share volunteer opportunities on June 18th, 25th and July 2nd at Hart Elementary School for roughly 90 minutes each day to help bag fresh fruits and vegetables for students to take home over the summer.  She passed around sign up sheets as well.
President Julie made a few announcements:
Don't forget to sign in for the weekly meeting via Facebook and MeetUp.com
Our next RCA North Breakfast Cluster Meeting is at Waterloo Ice House on Burnet Road on
Thursday, May 30 at 7:00 a.m.
There is a get-well card for Don Cook circulating for everyone to sign
Thanks to Gaines and Leslie Bagby for their help setting up the recent Spring Garden Party at
Julie and Harold's home, and to Jennifer for help with cleaning up!
After a good amount of fellowship time, Past President Gaines Bagby introduced our speaker, Jonathan Coon, who shared with us his very interesting life in business and the movies.
Jonathan is best known for starting 1-800 CONTACTS in 1992 in his dorm room with only $50.  The company was sold in June 2012 for $900 million.  He served as CEO from 1998 to 2007 and led a campaign to get a federal law passed to give Americans a right to their contact lens prescriptions.
As he described it, this was a monumental undertaking, and they lost battles in 19 of the 22 state capitols where they attempted to change the law before shifting to Washington D.C. to take the battle to Congress.  He personally invested over 300 days in D.C. over 5 years; and the end result was the passage of the Fairness to Contact Lens Consumers Act, a stand-alone act, through both the House and Senate.  The President finally signed it into law in 2004.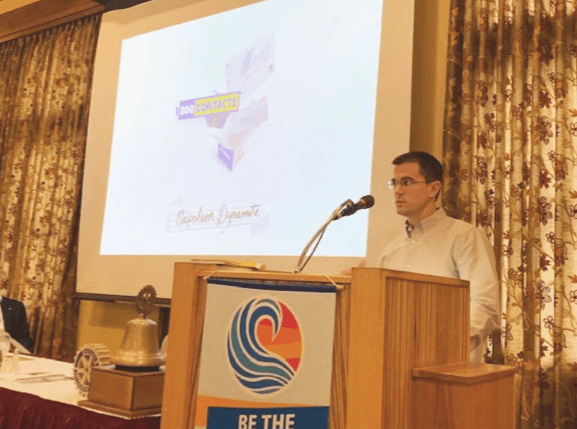 Jonathan also spoke about helping his younger brother make a movie called Napoleon Dynamite.  He shared highlights from that experience including that he saw his $400,000 investment reap millions in return from box office and DVD sales.
His favorite quote is "The difficult we do now.  The impossible takes a little bit longer." which comes from the US Army Corps of Engineers.  He expressed in many ways that we should all be skeptical when someone tells you that something is impossible, especially if that person is an "expert"!
Next week's speaker will be Paul Bielamowicz with the Capitol Complex/Texas Mall project in downtown
Austin.
President Julie then recognized today's newsletter sponsors Corey Wilson (Kidd Roofing) and
David Doran (Texas Systems Group).  Thank you both!  She provided a Thought for the Day from Nelson Mandela and adjourned the meeting.